Serving Las Vegas Visitors and Residents Since 1999
Welcome to the Insider Vibe! This is the official newsletter of AccessVegas.Com. We talk about the Las Vegas activities you really care about.
---
AccessVegas.com Quick Info Menu:
Las Vegas Essentials

Featured Shows

Photos and Wallpaper
Newkirk's Notes – comments on Las Vegas from AccessVegas.Com publisher Ted Newkirk:
Hello From Las Vegas! Is it raining or snowing where you are at? I was out running errands mid-afternoon in short sleeves, shorts, sunglasses and sandals. Which is pretty much what everyone was wearing walking the Las Vegas Strip on this beautiful 77á F degree "summer" late October day.
Welcome Back – This past week, we were able to get ourselves off the "blocked email" list of a couple of major internet companies. We follow all the rules, but because we talk about the "grown up" Las Vegas related topics, we sometimes get snagged by automated filters. If you are seeing us for the first time in a long time, great to see you again.
Always remember that you can go to http://www.las-vegas-new-reviews.com and catch up on all the archives. If your trip is over, certainly feel welcome to stay subscribed so you can have us around for your next trip. If for some reason you simply never want any Las Vegas information again, we do put an unsubscribe link at the bottom of every newsletter.
Come On Down! – The latest incarnation of Let's Make A Deal is now airing on daily on CBS (check local listings). Wayne Brady is the host and the show tapes at the Tropicana. And yes… you can put on a goofy outfit and try to get on TV. (If any of you do, make sure to write and let us know how it went). Ticket info plus a video of a recent episode available at http://www.cbs.com/daytime/lets_make_a_deal/
New Photo Sets As Promised! – Photographer Greg McFalls has been busy, busy, busy. First we had him over to shoot the latest Bellagio Gardens Fall Botanical display. If you've never enjoyed it, the gardens are open to the public at no charge inside the Bellagio. Click on photo for entire photo gallery set:

Bellagio Gardens Fall 2009
If you prefer pretty girls over pretty flowers, we caught the recent MMA Xplosion bikini model search from the Hawaiian Tropic Zone. If you can't be in Las Vegas right now, we are bringing Las Vegas to you! Click on photo for entire photo gallery set:

Hawaiian Tropic Zone MMA Xplosion Bikini Contest
Friends In High Places – Garth Brooks may sing about friends in low places, but having Steve Wynn as a friend can't be that bad either. Unless you've been in a cave somewhere, you probably know that Garth Brooks is coming out of retirement to play five years worth of shows (on selected weekends) at Encore Las Vegas. Tickets on sale starting October 24 at wynnlasvegas.com
Gay Day – May 1 is known as May Day. October 1 may well be remembered in Nevada as Gay Day, the first day legal domestic partnerships were made available. Unless the couple has no kids, no joint property and a few similar stipulations, dissolution of the domestic partnership follows the same proceedings as an actual divorce. Straight couples may (and have) filed as well. No word yet on whether this is a boon to wedding chapels, many of which have offered a gay ceremony option for quite some time.
Former Inside Vibe staffer Zig (now feeling very chilly back in his home state of Connecticut after a number of years in the desert) was in town recently as the "best man" for a gay wedding (Note: Zig is straight) and gave the following report:
They got their certificate of domestic partnership, and held a ceremony in a church. The pastor was also gay. About 30 people showed up. First me and the best man (or woman in this case) walked down the aisle and lit the two candles. It was actually a very nice ceremony. I learned that in a gay ceremony the bride is not given away. Instead the couple walks down the aisle together.
Gaming Revenue Down Again – Gaming revenue (the money you are kind enough to donate at the tables and slots) is down for 20 straight months as of latest available numbers. Note to gaming executives: How has that "let's tighten up the slots and institute lousy table game rules" stuff working out for you? Were any of you around 10+ years ago when casinos advertised 99% payback slots, full pay video poker, and fought over who had the most liberal blackjack rules? Seems like we didn't have a gaming revenue problem back then. Visitors could actuallyáplay more than a few minutes on a $20 bill.
Blue Man Group Mega-Giveaway
Blue Man Group is one of the most exciting, over-the-top shows in Las Vegas, and we're proud to offer this exclusive giveaway to our readers:
Grand Prize:
Two tickets to see Blue Man Group at the Venetian Hotel & Casino including a meet & greet plus a special Blue Man Group paint can and a Blue Man Group DVD.
Second Prize:
Two tickets to see the Blue Man Group plus a Blue Man Group logo hat.
Third Prize:
Blue Man Group merchandise consisting of the following items:
Blue Man Group white logo t-shirt size XL
Blue Man Group refrigerator magnet
Blue Man Group mints
Blue Man Group hand sanitizer
Blue Man Group lip balm
Remember, you still have a few days to enter to win dinner for two at Alize French Restaurant at the top of The Palms Las Vegas. Click over to Alize French Restaurant Dinner Entry
Event Updates – We've added even more football parties (most of which offer food and booze specials) at Las Vegas Football Parties 2009 plus a slew of Halloween events at Las Vegas Halloween 2009 Events. Make sure to check them both out.
Enjoy This Issue!

Ted Newkirk
CEO/Managing Editor
Associate Editor: Amy Rayner-Cooley
News Researcher/Editor: Mark Jacobs
---
Las Vegas Is On Sale!
Get Great Rates At All Hotels:

Bally's from $39,

El Cortez from $21,

Fitzgeralds from $21,

Hooters from $20,

Orleans from $34,

Riviera from $27,

Sahara from $18,

Stratosphere from $21,

Tropicana from $29,

Tuscany from $20,
More Savings At All Vegas Hotels!
---
Blue Man Group û A Rare Gem Everybody Can Enjoy
It may not seem likely that a show which features three blue, mute men can provide not only live music, skillful comedy, more than a few tidbits of interesting information, and social commentary regarding contemporary issues, but it is true, and can be found in the Blue Man Group at The Venetian.
The show begins once you enter the theater, with the stylishly cool atmosphere and the sardonic yet humorous disclaimers. Before the Blue Men come out, the audience is instructed to follow a few verbal cues to get everyone in an appropriate state of mind. And, if you happen to be one of the rather late arrivals, you may end up blushing a bit.
---
Following Rick Thomas And His Magic To The Edge Of His Dreams
Follow Magician Rick Thomas to the edge of his dreams just for the thrill of it. Its more fun than just another magic show. ItÆs a trip into a world of imagination and the very art of dreaming itself.
First there are white 500 pound tigers roaring across the stage, birds appearing as singles and doubling into pairs before your eyes, napkins turning into birds, and girls turning into tigers. ItÆs a classic show full of disappearing motorcycles, beautiful women being levitated and sawed in half, old silver ring tricks, and even some great card tricks. But wait, thereÆs more!
---
---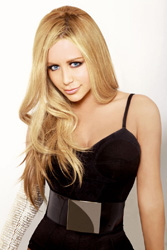 Sultry Siren Aubrey O'Day Has Taken The Stage As The "Peep Diva" In Peepshow
– O'Day, who appeared in the hit Broadway production Hairspray, is a Playboy Cover Model (March 2009) and former member of the girl group, "Danity Kane." She takes the Las Vegas stage as the mistress of ceremonies, the "Peep Diva," which is currently played by Broadway star and recording artist, Shoshana Bean, and previously played by pop superstar, Mel B. With a plan to feature rotating headliners, PEEPSHOW constantly reinvents itself by bringing in today's hottest stars. O'Day will perform alongside a sizzling ensemble of sexy PEEPSHOW GIRLS, showstoppers from film, TV, Broadway and beyond, who were handpicked to perform in this multi-million dollar production which features today's best-known hits and original songs created especially for PEEPSHOW.
Neil Sedaka Returns To The Orleans Showroom November 12-15 – For more than four decades, Neil Sedaka's timeless standards have influenced the sound of popular music. Renowned for his work as a singer, performer, producer and songwriter, Sedaka will perform at The Orleans Showroom November 12, 13, 14 and 15 at 8 p.m. With countless hit singles, platinum and gold records, Sedaka is recognized as one of rock and pop music's legendary pioneers, with songs that continue to stand the test of time.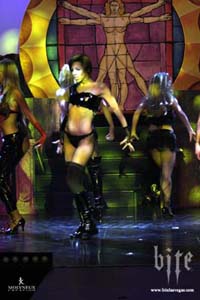 BITE Celebrates 5 years On The Las Vegas Strip At The Stratosphere Hotel – Creative, Classic Rock And Vampire Show A Proven Success With Locals And Tourists Alike – Launched in 2004, BITE has become one of the most iconic and successful shows in Las Vegas today. At more than 1,500 performances and nearly a half-million audience members since it first began, the undeniably powerful combination of sexy dancers, amazing acrobatics, high-energy rock 'n roll and the darkly mysterious allure of vampires have proven to be a formula for success. "There are so many factors that have contributed to making BITE a success," said Tim Molyneux, producer and writer of the show. "The world has always had a fascination with vampires – they've been a part of popular culture for hundreds of years and we are once again experiencing a real resurgence in television, film and print. Some people come to see BITE simply because it's a vampire show, but ultimately they are always blown away by the production."
Wayne Newton's Limited Engagement Production Once Before I Go Begins Preview Performances At Tropicana Las Vegas – Previews for the all-new, limited engagement production, Once Before I Go, at Tropicana Las Vegas run October 14 – October 27 with a Grand Opening slated for October 28. Tickets to this once-in-a-lifetime production are currently on sale. A celebration of 50 storied years as told by the man who shaped them, Once Before I Go is a rare opportunity to experience an iconic career through the entertainer's own lens. No other performer has seen 50 years from center stage in the ever-changing city of Las Vegas and it's likely none other ever will.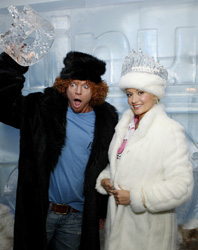 Minus 5 Sizzles During One Year Celebration – Holly Madison and Carrot Top Are Crowned Ice King And Queen – The first Minus 5 ice lounge in the country celebrated its one year anniversary on Friday, September 25 by crowning the first "Ice King and Queen." Peepshow star Holly Madison was crowned Queen while comedian Carrot Top was proclaimed King of the arctic lounge. Madison and Carrot Top bundled up in their faux fur coats to accept their new titles. They officially became the first "Ice King and Queen" during a special coronation in which they received ice crowns.
Robin Williams To Bring Hilarious Comedy To MGM Grand Saturday, December 5 – Robin Williams, one of the most gifted actors and comedians of our time, returns to the MGM Grand Garden Arena Saturday, Dec. 5. The show is scheduled to begin at 8 p.m. Academy Award and GRAMMY« winner Robin Williams began his career as a stand-up comedian and has created a repertoire of indelible characters, first in the hit series "Mork & Mindy" and then in numerous film roles. In 1997, Williams received Academy and Screen Actors Guild awards for his performance in "Good Will Hunting," having been previously nominated by the Academy for performances in "The Fisher King," "Dead Poets Society" and "Good Morning Vietnam."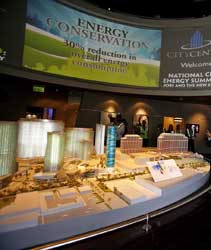 CityCenter Reveals The Spa At Aria, Opening December – Innovative 80,000-square-foot Spa And Salon Brings Nature's Elements Within – Synchronizing balance and beauty, The Spa at ARIA invites guests into a peaceful haven where nature's healing properties take center stage. Salt, stone, earth, fire and water join to create a spa experience that will elevate guests to a meditative state for introspection and relaxation. Opening with ARIA Resort & Casino this December, the two-level Spa will feature 62 treatment rooms, a full-service salon, an advanced fitness center, boutique, poolside spa cabanas and Las Vegas' first co-ed spa balcony, featuring an outdoor therapy pool and views of ARIA's spectacular poolscape. In addition to skincare and massage rooms, The Spa will feature ashiatsu, couples' massage, thai massage, hydro-therapy and vichy rooms, as well as three exclusive spa suites.
So You Think You Can Dance Tour 2009 Hits Las Vegas For One-Night-Only At The Orleans Arena November 14 – Audience favorites from the fifth season of the popular television program So You Think You Can Dance will appear live on stage at the Orleans Arena for a one-night-only event, November 14 at 7:30 p.m. as part of the So You Think You Can Dance Tour 2009. Ade Obayomi, Brandon Bryant, Evan Kasprzak, Janette Manrara, Jason Glover, Kayla Radomski, Kupono Aweau, Melissa Sandvig, Randi Evans, and America's Favorite Dancer Jeanine Mason are the Top 10 Finalists from the hit television show, performing the hottest routines from the program, as well as original pieces created specifically for the national tour*.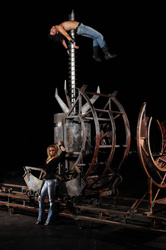 "OktoberFrightFest" Brings Beer & Brats, Bats and BOOze To Fremont Street Experience – Fremont Street Experience unveils the ultimate Oktoberfest and Halloween combined street party with its first ever "OktoberFrightFest," a festival through October 13-31. Fremont Street Experience transforms itself into the ultimate adult playground with Oktoberfest and Halloween festivities, including a haunted house attraction inside Binion's Gambling Hall & Hotel, a Viva Vision light and sound show themed to "Time Warp" and "Monster Mash," seasonal Oktoberfest food & drink specials, plus three free Halloween-themed stage shows never seen before in Las Vegas.
---
These are only a few of the many Easy Vegas Deals we find each and every week (many of which happen too quickly for newsletter deadline). For a complete and constantly updated listing:
Bookmark and Visit EasyVegasDeals.com daily (Monday – Friday) or

Enter

http://www.easyvegasdeals.com/feed/

into your RSS feed list (for those of you who use RSS/XML feeds) or
---
Members Mania – We Love Our Readers!
Members Mania will return next week. We are just flat out of room this issue with the giveaways, photo sets and show reviews.

---
We love to hear from you, and value your feedback! Here's how to participate:
Drop us an email at allvegastv@aol.com – We read them all!
Call our recorded comment line at 702-507-0055. We listen to every call.
---
More Las Vegas News – Concerts – Events
---
Coming Hot Holidays
– The following dates are huge times to be in Las Vegas, and rooms are in high demand. Booking in advance is the best way to save. Visit our friends at
Las Vegas Hotel Deals
and spend one of the following hot dates having fun in Las Vegas:
Halloween October 31
Veteran's Day November 11
Thanksgiving Day, U.S November 26-29 (4 day weekend)
Hanukkah Dec. 2 – Dec. 9
Christmas December 25
New Year's Eve-Day December 31 – January 2 (3 day weekend)
Martin Luther King, Jr., Day, U.S (Observed) January 18-20 (3 day weekend)
Super Bowl Sunday February 7
Lincoln's Birthday, U.S February 12
President's Day, U.S (Observed) February 13-15 (3 day weekend)
Chinese/Lunar New Year February 14
Valentine's Day February 14
Mardi Gras February 16
Washington's Birthday, U.S February 22
St. Patrick's Day March 17
Easter Sunday April 4
Cinco de Mayo May 5
Mother's Day May 9
Memorial Day, U.S May 29-31 (3 day weekend)
Father's Day June 20
Independence Day July 4
Civic Holiday, Canada July 31-August 2 (3 day weekend)
Labor Day, U.S September 4-6 (3 day weekend)
Labour Day, Canada September 4-6 (3 day weekend)
Jewish New Year September 9
Link To Us! – Have a home page, web page, or blog? Link to us, and give yourself and your friends a quick link to find us from your site. Simply link to http://www.accessvegas.com and name the link Access Vegas!
RSS Feed – We now have an RSS/XML feed! Most RSS programs let you visit AccessVegas.com and automatically pull the feed. For those who want to enter it manually, the feed is:
http://www.accessvegas.com/xml/whats-hot.xml
Share the info: Click to Email this newsletter to a friend!
---
For comments or questions regarding our content
or this newsletter write us at
allvegastv@aol.com
.
New to the list? See our Newsletter Archives for back issues and subscription info. Don't hesitate to forward this newsletter to friends and associates.
All contents copyright 2009 Ted Newkirk. All Rights Reserved.
Hotel Rates Published Accurate At Time Of Publication


October 21, 2009 ISSN: 1529-2770 About Us Privacy Policy
No related links found