Serving Las Vegas Visitors and Residents Since 1999
Welcome to the Insider Vibe! This is the official newsletter of AccessVegas.Com. We talk about the Las Vegas activities you really care about.
Newkirk's Notes – comments on Las Vegas from AccessVegas.Com publisher Ted Newkirk:
Hello From Las Vegas! Perfect weather in the 70's F with cool (but not cold) nights. Huge amounts of info in this issue, so we'll dive right in:
Facebook Fan Us – The good news (for you Facebook users): We have created a AccessVegas.com Facebook Fan Page! What are we going to do with it? We're leaving that up to you:
Make sure you are signed into Facebook and click to our

AccessVegas.com Facebook Fan Page and click the Become A Fan button (top center of the page).
If so inclined, make a post to our wall suggesting how we should use our page.
As a way of saying THANKS, we'll pick one person who fans us between now and Nov. 15, 2009 and send them a cool Vegas prize. No need to comment or post anything. Just fan us! We'll also pick what we feel is the best suggestion(s) for how we should use our fan page and reward that person with some cool Vegas stuff as well.
Cirque Du Sol-Elvis – In one of the more poorly kept secrets of recent time, the new Cirque du Soleil show at CityCenter will focus on the life of Elvis. We'll let you know when tickets become available.
The Showgirl Won't Go On – Bette Midler ends her Caesars Palace run at the end of January, 2010. She is quoted as saying "These legs have had such a great run in the desert—it may be time to haul them to places with more humidity and fewer slot machines. But first I need to finish recording my album of the sexiest new love songs that only a showgirl could sing". Tickets for her final Las Vegas shows available: Bette Midler Las Vegas Tickets
Boyd Gaming Continues To Pursue Station Casinos – With cash available due to the stoppage of work on Echelon Place, local casino giant Boyd Gaming continues to make a play for rival Station Casinos (which is in bankruptcy). It would give them utter domination of the locals market and it would be interesting to see how hard Boyd works without a major rival. One of the great things among competition for players is that gaming properties are forced to offer a great customer experience or lose to the competition.
Speaking Of Echelon Place – Boyd now estimates it will be 3-5 years before work resumes on the nearly $5 billion project with no guarantees it will follow the original plans. I hate to see projects fail or get put on hold, but when this thing was announced I was on record as questioning the demand for the project and even went as far as (nearly) mocking the choice of the name Echelon. It just doesn't have that cool, Las Vegas resort name. Hey Boyd… you have time to change it and get the "stink of death" currently associated with the name Echelon behind you.
Yogurt In Opens At The Shoppes At Mandalay Place – The Yogurt In allows guests the opportunity to create their own frozen dessert masterpiece or order from an extensive menu of sweet and savory crepes. Patrons choose from 16 rotating frozen yogurt flavors along with an abundance of do-it-yourself topping options or design a unique, made-to-order shake. For those looking for a warm indulgence, crepes filled with a variety of ingredients will provide a perfect snack or light meal. The Yogurt In is open daily from 10 a.m. û midnight
Height Of Football (US) Season – Football fever sweeps Las Vegas nearly every day of the week with college and NFL game action. Click to Las Vegas Football Parties 2009
Winners – We have picked and notified the winners of both our Blue Man Group and Alize French Restaurant promotions. We'll announce them next issue. We'll also have a new giveaway starting in a few days. Stay subscribed or watch our Access Vegas Twitter Feed for details.
CityCenter Opens Soon! – Some hail it as the latest and greatest in a long line of Las Vegas developments. A few have said that it looks more like a Houston, TX office park. The buzz we are getting is that the hotels and shops making up CityCenter could set a new bar for Las Vegas. We'll be passing along plenty of reports and photos throughout mid-and-late December as CityCenter comes online (which is scheduled in phases).
With Veterans Day upon us, I want to thank those of you who have served our country and protected the freedoms (including the freedom of speech to publish my thoughts and opinions). I salute you all.
Enjoy This Issue!

Ted Newkirk
CEO/Managing Editor
Associate Editor: Amy Rayner-Cooley
News Researcher/Editor: Mark Jacobs
---
Las Vegas Is On Sale!
Get Great Rates At All Hotels:

Bally's from $39,

El Cortez from $28,

Fitzgeralds from $23,

Hooters from $20,

Orleans from $33,

Riviera from $27,

Sahara from $20,

Stratosphere from $22,

Tropicana from $29,

Tuscany from $20,
More Savings At All Vegas Hotels!
---

Phantom Celebrates 1500 Performances At The Venetian Resort-Hotel-Casino – The Las Vegas Spectacular hits another milestone as the show celebrated 1,500 spectacular performances on Friday, October 30. The Las Vegas production of the worldwide favorite is enjoying enduring success that few other Las Vegas productions have achieved. After three and a half years of haunting The Venetian, Phantom – The Las Vegas Spectacular continues to prove it is an audience favorite among locals and tourists alike. Phantom has established a position at the forefront of Las Vegas entertainment.
Las Vegas' Longest Running Dinner Show "Marriage Can Be Murder" Celebrates 10-Year Anniversary – "Marriage Can Be Murder," an award-winning comedy and murder mystery dinner show, celebrates 10 years of having audiences laughing and guessing whodunit on a nightly basis. The longest running dinner show in Southern Nevada, "Marriage Can Be Murder," is an interactive experience where the audience unseeingly becomes involved with mystery unfolding around them. "Guests keep coming back to see the show because they enjoy the interaction of the characters on stage and in the crowd," said Eric Post, co-creator of the dinner theater concept with wife Jayne Post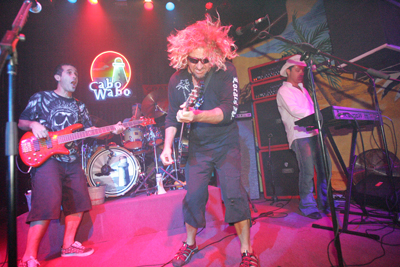 Cabo Wabo Cantina Ready To Rock The Strip With Early November Opening – Sammy Hagar To Bring Infamous Dining And Rock 'N Roll Hotspot To Miracle Mile Shops – Sammy Hagar is ready to rock Vegas – Cabo style, with the opening of Cabo Wabo Cantina in early November inside Miracle Mile Shops at Planet Hollywood Resort & Casino. On Friday, December 4, the Rock and Roll Hall of Famer will host an official grand opening bash with a live performance by his band, the Waboritas. The two-level, 15,000-square-foot live music venue, cantina and restaurant will be located directly on Las Vegas Boulevard across from the new CityCenter complex.
Jersey Boys Walk Like A Man To Platinum – Grammy-Winning Cast Recording Achieves Major Milestone As The Musical Continues Its Stellar Run Reaching Three Continents – Jersey Boys, the story of Frankie Valli and The Four Seasons, adds another award to its crowded mantle. The Original Cast Recording has been certified platinum by the Recording Industry Association of America (RIAA) commemorating sales of over one million copies in the United States. The album won the Grammy for Best Musical Show Album in 2006 and continues to be a sales juggernaut, repeatedly landing in the Top 25 of Billboard's Top Catalog Albums chart nearly four years after its release.
Bon Jovi To Return To MGM Grand Garden Arena Saturday, March 6, 2010 – With New Jersey's New Meadowlands Stadium as its backdrop, GRAMMY Award-winning hometown heroes Bon Jovi performed at a concert and media event today that announced "The Circle World Tour." The band is preparing to spend nearly two years spanning the globe, including the kickoff event of New Meadowlands Stadium scheduled for May 26 and 27, 2010. Bon Jovi will make a stop at the MGM Grand Garden Arena Saturday, March 6, 2010.
Beijing Noodle No. 9 Offers Nine Tastings For $19.99 – Known for its authentic Chinese fare, Beijing Noodle No. 9 pays homage to its signature lucky number with its new tasting menu; guests can experience nine of Beijing's signature dishes for only $19.99. Offerings include steamed pork bun; Har Gow shrimp dumpling; Imperial seafood soup dumpling; pork and vegetable wonton in chicken soup; sautÚed noodles with pork; Beijing style noodle with tomato and egg; green tea ice cream; baked barbecued pork pastry and red bean paste bun.
Payard Turns To Fall – Award-winning Pastry Chef Franþois Payard has created a brand new fall prix fixe lunch menu. Choose between asparagus salad with truffle vinaigrette and ciabatta toast or parsnip and mushroom tart for starters. Then select either Seared Sea Bass with Bok Choy and chocolate soy sauce or traditional couscous. The impeccable lunch concludes with a choice of a Payard pastry. Payard is a beautifully designed, multi-layered experience that includes a chocolate shop, a pastry shop and a traditional dining room.
Supernatural Santana: A Trip Through The Hits Adds Concert Dates In February 2010 At Hard Rock HOtel & Casino Las Vegas – Supernatural Santana: A Trip Through the Hits, the exhilarating rock-n-roll concert experience featuring Carlos Santana and his band, will continue its successful run at The Joint at Hard Rock Hotel & Casino in February 2010. Featuring an ever-changing set list and a new opening number since its May debut, concertgoers will continue to be wowed, even if they've already seen the show. Through 2010 The Joint will be the only venue west of the Mississippi where fans can see Santana.
Gift Of Lights Makes Holidays Sparkle Sunset Park Is Illuminated Nov. 13 Through Jan. 3 – The Ninth Annual Gift of Lights illuminates Sunset Park beginning Nov. 13 through Jan. 3. The award-winning holiday event is a local tradition as families cruise through the park to marvel at millions of twinkling lights, including the second phase of LED lights for a greener planet. The brilliant display is open from 5 to 10 p.m. on Fridays, Saturdays and holidays, and from 5 to 9 p.m. on Sundays through Thursdays at Sunset Park located at Eastern Avenue and Sunset Road.
---
These are only a few of the many Easy Vegas Deals we find each and every week (many of which happen too quickly for newsletter deadline). For a complete and constantly updated listing:
Bookmark and Visit EasyVegasDeals.com daily (Monday – Friday) or

Enter

http://www.easyvegasdeals.com/feed/

into your RSS feed list (for those of you who use RSS/XML feeds) or
---
Members Mania – We Love Our Readers!
We are planning a trip to Vegas in March 14 to 21. Could you tell me if spring break or NASCAR is in that time frame? Also did some hotel searches, found some good rates at Hooters. Is this hotel suitable for our age group 50's? Thanks!
Judy
Ted Responds:
NASCAR weekend is Friday, Feb. 26 – Sunday, Feb. 28, 2010. Spring Breaks vary across the U.S. from late Feb. to April. Hence, will be spring break visitors from somewhere in town. The beginning of March Madness will coincide with your visit, so things might be a little more rowdy than usual.
Hooters isn't a frat party or anything like that. It is a smaller property with more of a boutique feel but it sits next to Tropicana and directly across the street from the porte cochere of MGM Grand (with a stoplight to assure you you can walk between the two). You'll be fine!

---
My wife and I enjoy your news letters from Vegas,and often go several times a year mainly to see the shows. In the first part of October we went to see CHER and what we thought was to be a classy show. We were very disappointed from start to finish and regretted spending the two hundred dollars to see a rude, crude, potty mouth singer.
To begin with the audience was kept waiting for fifteen minutes before CHER came on stage,and then were shocked to see her grab her crotch, and inform the audience that she has been doing this for forty five years and felt like putting a loaded gun in her mouth and pulling the trigger.
Through out the show, she said the "f" word several times which embarrassed many people around us and negative comments were made about that. She then belittled the stage hands, and did not even thank her band or her dancers for the hard work they had done to make her look good.
We observed several couples get up and leave the theatre (I wish we had left also). The only nice part of the show was the outfits that she wore. Cher should wake up and realize she is not a class act when she treats her audience the way she did that night.
Donald Gariepy
Ted Responds:
Cher's people will not accommodate us to go see the show and do a write-up on it. Might be why they don't want us to send someone. Sounds like she needs to take some lessons in showmanship and class from Wayne Newton.

I just have a general comment to make. If Vegas wants more tourism, the airlines need to reduce the fares to Las Vegas! I know of several people who wanted to go, but went elsewhere because of the airfares out of Chicago.
Gary Nawrocki
Ted Responds:
Unfortunately, cities and hotels have no control over the price of airfare. Cities like Chicago are simply expensive places to fly out of. A few days ago I checked the following cities for airfare to Las Vegas Dec. 2 – 9 of this year:
Chicago: $279
Boston: $247
Jacksonville: $230
This despite the fact that Chicago is only slightly farther than Jacksonville, and significantly closer than Boston to Las Vegas.
As we've noted in the past, the extremely low room rates Las Vegas offers (something the hotels do have control over) more than offset the cost of airfare. Let me know what a Wynn Las Vegas caliber hotel is going for in Chicago!
What many are doing is just staying a couple more days. Your airfare is set, the hotel rates are cheap. By staying longer, you amortize that airfare cost over more days.
I love visiting the stunningly beautiful beaches of Destin and Panama City áBeach, Florida. The cost for the same time stretch I used in the above sample for me to head there? $351 and hotel rooms that start at about $100 a night (for a basic place, not a resort). Makes Las Vegas seem like a bargain! P.S. For those who enjoy Florida's Emerald Coast like I do, you must check out http://www.destinfloridapodcast.com

---
A friend and I were in Vegas in July, and purchased tickets to The Price Is Right. We were really disappointed in the show. The cost of the tickets were too much for what you got out of it. It was nothing like the show, and I discourage anyone from going. The rest of the trip was great.
Denise in Massillon, Ohio
---
I love your newsletter, your spirit and your frank reporting on my favorite vacation destination.
Here's a question:
I usually need to bring about $1000 on my vacation, but don't like to carry that much in my wallet. These days I take travelers checks which the casinos gladly cash. In days gone by, I would use the ATM's in the casinos, but the high fees there and back home make that a costly way to go. I've looked for plain vanilla bank machines with no, or low fees on the strip, but can't find ANY.
Do you or your readers have any knowledge of places where cash advances from accounts or credit cards can be made cheaply? Are there any bank branches anywhere on or near the strip or downtown?
p.s. My last visit was at Four Queens in September, and I couldn't have been happier!
David Fraser from Canada
Ted Responds:
1. Wells Fargo has an ATM toward the back of Harrah's Carnival Court.
2. Bank of America has an ATM in Caesars Forum Shops next to Casa Fuente (the world famous cigar shop).
3. Bank of America has an ATM at their tower downtown. Super simple to find when you are at Fremont Street Experience: Go to Third Street (Between Binion's and Fremont Hotels). Walk two blocks south to Bridger Ave. Cross Bridger and a well-lit outdoor ATM (set up for auto use) will be on your left. Note: Downtown is generally safe, but I'd probably stick to doing this on-foot in the daytime.
All of these are actual bank owned and operated ATM's and will charge you the same, simple fees that you would pay using any Wells Fargo or Bank of America ATM anywhere else. (No charge at all if you are a customer of that respective bank).
I agree that the in-casino ATM scam is ridiculous. You think they would WANT you taking out plenty of money to spend. You think that they would have no fee (or maybe something like 50 cents just to cover their basic costs). But they jack you even though you are extracting money to spend at their casino!
Also, the various chain drug stores along The Strip that accept debit cards will usually give cash back (although often will put a strict limit on the amount).

---
We love to hear from you, and value your feedback! Here's how to participate:
Drop us an email at allvegastv@aol.com – We read them all!
Call our recorded comment line at 702-507-0055. We listen to every call.
---
More Las Vegas News – Concerts – Events
---
Coming Hot Holidays
– The following dates are huge times to be in Las Vegas, and rooms are in high demand. Booking in advance is the best way to save. Visit our friends at
Las Vegas Hotel Deals
and spend one of the following hot dates having fun in Las Vegas:
Veteran's Day November 11
Thanksgiving Day, U.S November 26-29 (4 day weekend)
Hanukkah Dec. 2 – Dec. 9
Christmas December 25
New Year's Eve-Day December 31 – January 2 (3 day weekend)
Martin Luther King, Jr., Day, U.S (Observed) January 16-18 (3 day weekend)
Super Bowl Sunday February 7
Lincoln's Birthday, U.S February 12
President's Day, U.S (Observed) February 13-15 (3 day weekend)
Chinese/Lunar New Year February 14
Valentine's Day February 14
Mardi Gras February 16
Washington's Birthday, U.S February 22
St. Patrick's Day March 17
Easter Sunday April 4
Cinco de Mayo May 5
Mother's Day May 9
Memorial Day, U.S May 29-31 (3 day weekend)
Father's Day June 20
Independence Day July 4
Civic Holiday, Canada July 31-August 2 (3 day weekend)
Labor Day, U.S September 4-6 (3 day weekend)
Labour Day, Canada September 4-6 (3 day weekend)
Jewish New Year September 9
Halloween October 31
Link To Us! – Have a home page, web page, or blog? Link to us, and give yourself and your friends a quick link to find us from your site. Simply link to http://www.accessvegas.com and name the link Access Vegas!
RSS Feed – We now have an RSS/XML feed! Most RSS programs let you visit AccessVegas.com and automatically pull the feed. For those who want to enter it manually, the feed is:
http://www.accessvegas.com/xml/whats-hot.xml
Share the info: Click to Email this newsletter to a friend!
---
For comments or questions regarding our content
or this newsletter write us at
allvegastv@aol.com
.
New to the list? See our Newsletter Archives for back issues and subscription info. Don't hesitate to forward this newsletter to friends and associates.
All contents copyright 2009 Ted Newkirk. All Rights Reserved.
Hotel Rates Published Accurate At Time Of Publication


November 4, 2009 ISSN: 1529-2770 About Us Privacy Policy
No related links found