Serving Las Vegas Visitors and Residents Since 1999
Welcome to the Insider Vibe! This is the official newsletter of AccessVegas.Com. We talk about the Las Vegas activities you really care about.
---
AccessVegas.com Quick Info Menu:
Las Vegas Essentials

Seasonal Vegas Information

Christmas and New Years Coming Soon!

Featured Shows

Photos and Wallpaper

Las Vegas Photos
(Send A Free E-Card or Download Full Size For Computer Wallpaper!)
Newkirk's Notes – comments on Las Vegas from AccessVegas.Com publisher Ted Newkirk:
Hello From Las Vegas! – Going into Thanksgiving week, temps have been trying to push 70 degrees (F) although it gets aábrisk as the evening wears on. Average highs for December and January are identical: 57 for a high and 37 for a low. February brings 63 degrees for an average high. If you live in cold climates, planning a February vacation here to Vegas is a smart move. You'll have something to look forward to and get to escape the worst of the winter doldrums!
New Cher Dates – We've added Cher's dates stretching well into 2010. See the story in this issue. One of the most common questions we get is "I'm coming such-and-such week… who will be playing?" The answer is simple: When we get the info, we add it. Just stay subscribed and keep your eyes on the newsletter sidebar. Or… go to our Access Vegas Headliners Concerts section, surf to your dates, bookmark that specific page, and check back often. Keep in mind that many concerts and events are only scheduled a couple of months out.
Facebook Fan Page Winners – Will be announced next week. We picked up some cool swag (stuff) to send out! Not an AccessVegas.com Facebook fan yet? Use the link in our Quick Info Menu at the top of the newsletter.
Don't Forget The Turkey – We have an extensive list of dining and entertainment opportunities over the long Thanksgiving weekend here at Thanksgiving 2009 Las Vegas Dining/Events. If local or visiting us later in the week, make sure to check it out. Also keep in mind that virtually every restaurant in ever casino has a special Thanksgiving menu available on Thanksgiving day.
Keeping my section short this week as most of our U.S. readers are looking forward to a long four day weekend starting with Thanksgiving this coming Thursday. Me? I'm thankful for all of our great readers who love visiting Las Vegas. This job never gets dull.
Enjoy This Issue!

Ted Newkirk
CEO/Managing Editor
Associate Editor: Amy Rayner-Cooley
News Researcher/Editor: Mark Jacobs
---
Las Vegas Is On Sale!
Get Great Rates At All Hotels:

Bally's from $39,

El Cortez from $28,

Fitzgeralds from $23,

Hooters from $20,

Orleans from $33,

Riviera from $27,

Sahara from $20,

Stratosphere from $24,

Tropicana from $28,

Tuscany from $20,
Click For More Savings At All Vegas Hotels!
---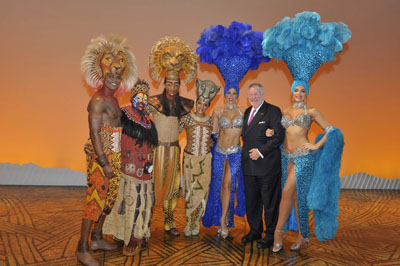 London Cast of Disney's The Lion King Welcomes Las Vegas Mayor Oscar B. Goodman – The London cast of Disney's THE LION KING welcomed Las Vegas Mayor Oscar B. Goodman as he was in town to promote the inaugural British Airways non-stop flights from London Heathrow to Las Vegas, which launched Oct. 25, 2009. While in town Goodman attended the spectacular production, now seen by more than 50 million people worldwide, and headed backstage at the Lyceum Theatre following the performance to pose for photos with principal cast members Tanya Edwards (Nala), Sakhumzi Mbele (Mufasa), Brown Lindiwe Mkhize (Rafiki), Andile Gumbi (Simba) along with two iconic Las Vegas showgirls.
Brad Paisley's American Saturday Night Tour With Special Guest Miranda Lambert At Mandalay Bay – Reigning Country Music Association (CMA) and Academy of Country Music (ACM) Male Vocalist of the Year Brad Paisley recently announced his highly successful American Saturday Night tour will extend into 2010 and include a stop at the Mandalay Bay Events Center Saturday, Feb. 20. The show will feature Paisley, along with special guests Miranda Lambert and Justin Moore.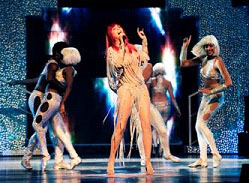 Photo Credit: Denise Truscello
Cher Returns To The Colosseum At Caesars Palace With New Show Changes And The Addition Of Spring 2010 Dates – Due to overwhelming demand, Spring 2010 performances of Cher at The Colosseum at Caesars Palace will go on sale Saturday, Nov. 14 at 10 a.m. These new available tickets will include 24 performances from April 10 -25 and May 8 -30. In addition to more performances, the pop icon will return to The Colosseum stage on November 19 with a newly added opening sequence and even more glitzy Bob Mackie costumes. Celebrating old-time Hollywood glamour and style, these new additions feature dazzling theatrics that pay tribute to the grace and timelessness of the 1940's and 1950's.
Trace Adkins To Perform At The Pearl At The Palms During NFR – The Pearl goes country during the National Finals Rodeo with a special performance by country music sensation Trace Adkins on Wednesday, December 9, 2009. Trace Adkins is a multi-platinum country music recording star who has remained a chartbuster for more than 11 years. He has become one of country music's top headlining performers and has sold millions of records, won dozens of industry awards and is a member of the prestigious Grand Ole Opry.
Nevada Ballet Theatre Names Marie Osmond As Its 'Woman Of The Year' For The 2010 Black & White Ball – Nevada Ballet Theatre is honored to announce singer, author, television personality, Broadway performer and philanthropist Marie Osmond as its 'Woman of the Year' for the 2010 Black & White Ball. As one-half of the beloved singing duo "Donny & Marie," this all-around entertainer will be honored on Saturday, January 23, 2010 at Paris Las Vegas. Surrounded by arts supporters as well as local dignitaries and celebrities, this iconic performer will accept her 'Woman of the Year' award in the Champagne Ballroom at Paris Las Vegas, following an elegant evening of cocktails, dinner and lively entertainment. This year, in place of a VIP reception held prior to the event, those guests will instead be treated to a special VIP post Black & White Ball Meet and Greet with Osmond.
Mario Barth At The Mirage: New Concept By Mario Barth Combines Tattooing And Nightlife – Tattoo mogul Mario Barth partners with The Mirage and The Light Group as Las Vegas' new triple threat. Barth has created Mario Barth at The Mirage, an exclusive lifestyle tattoo studio, interactive lounge and bar room. The baroque inspired venue is set to open its doors the first quarter of 2010. The 4,000 square foot venue is strewn with marble flooring, lavish fabrics, extravagant chandeliers and chairs fit for a king. The traditional elaborate decor will be balanced with a rock 'n' roll edge including glass skulls which will adorn the bar.
MGM Grand Spa's New Treatments Provide Soothing Relief From Stresses Of Day – The pressures and anxieties of the times are leaving more and more people with yet another problem of unwanted kinks, aches and pains. Calming comfort, however, can be found in the therapeutic new treatments of MGM Grand Spa. Perfect for releasing stress, MGM Grand Spa's Headache Remedy uses a steady yet gentle massaging touch on the face, neck and shoulders to reduce inflammation and clear blockages. A soothing Ayurvedic Shirodhara experience of streaming hot oil targeting the center of the forehead, or "third eye," completes this refreshing 50-minute treatment.
---
These are only a few of the many Easy Vegas Deals we find each and every week (many of which happen too quickly for newsletter deadline). For a complete and constantly updated listing:
Bookmark and Visit EasyVegasDeals.com daily (Monday – Friday) or

Enter

http://www.easyvegasdeals.com/feed/

into your RSS feed list (for those of you who use RSS/XML feeds) or
---
Members Mania – We Love Our Readers!
We continue to get email asking about Nevada's smoking ban, so we'll take some time to address it. There certainly is some confusion. If you look at a map of states with smoking bans, you'll see that Nevada has one. If you come visit Las Vegas, you'll find people smoking all over the place. So what gives?
Nevada's "Clean Indoor Air Act" banned smoking in most public places with two exceptions: Casino floors and bars that don't serve food. The fine? $100. The number of people who have been tickets and fined? Zero.
Why isn't the law enforced? A couple of reasons:
* Enforcement was deemed to be the job of the health department. The rational was that our local law enforcement had far better things to do than trying to chase smokers down. However, the health department equally does not have the manpower to send someone running each time a smoking complaint is called in.
* Southern Nevada's politicians are (with rare exception) long time Las Vegas residents who are partial to the concept of less regulation. The smoking ban was viewed by many as a California-style "nanny state" law which was voted in under the very confusing circumstances of two similar, competing ballot measures. Could the county commission pull the liquor licenses of non-complying businesses or lean on them in other ways? Yes. Do they have the political will? Probably not.
There is talk of either an enforcement plan, or the health department giving demerits for restaurants (usually bar/grill type places) that ignore the smoking ban. áWhat's the hold-up? The minute this is enforced, restaurant/bar owners are poised to sue.
Why? Laws have to be equally enforced. You can't make a law that forces Ford dealers to close at 6 PM while Chevy dealers are allowed to stay open as late as they wish. Allowing casinos and some bars that hold unlimited gaming licenses the ability to allow smoking while those holding limited licenses (most bar/grills) are prohibited from doing so is seen as inequitable.
So why not just change the law? No politicians are going to butt heads with the gaming industry. It drives our state and if casinos felt that being non-smoking was in their best interest, they would have done it a long time ago. A two week smoking ban in New Jersey (long story) caused significant revenue loss for casinos.
Could the people vote in a stiffer ban? Sure they could. They could take a knife and cut off their big toe if they were so inclined. Gaming is still a very major employer here (and with the current condition of the economy, it is a prime and very valuable employer). When you live here, you either work in gaming, work in tourism, or know people that do. Or you run a business where many of your customers do. No one except the most ardent anti-smoker is going to vote in a law that could very well result in them, family, or friends losing jobs.
So what to do?
Nonsmokers – Most of the casinos built in the past 15 years have incredible ventilation. Unless a smoker is sitting right next to you, it seldom is an issue. If everyone at your table is not smoking, you can often even ask to have the table be designated non-smoking (to keep a smoker from walking up and sitting down).
Another trick (and I'm serious): Take the ashtrays from the machines next to you and move them a few slots away. Don't go nuts with this and clean out your entire slot bank. Just move them a couple of machines down. The smoker probably doesn't want to bother you anymore than you want to be next to them.
Smokers – Keep in mind that while the law is not enforced, business owners continue to decide whether they allow smoking or not. (They were forced to put up the No Smoking signs. That does not necessarily mean that the business owner agrees with it or prohibits smoking). Even if you see a No Smoking sign, you can always ask "Can I smoke here, or can you point me to somewhere that I can?" In addition to casino floors, many hotels and restaurants have very comfortable outdoor food and drink areas that can be used much of the year.
Me? I don't smoke cigarettes, but also am not bothered by second-hand smoke. I'm just clearing up questions related to the issue and posing some suggestions for those on both sides of the coin

---
We love to hear from you, and value your feedback! Here's how to participate:
Drop us an email at allvegastv@aol.com – We read them all!
Call our recorded comment line at 702-507-0055. We listen to every call.
---
More Las Vegas News – Concerts – Events
---
Coming Hot Holidays
– The following dates are huge times to be in Las Vegas, and rooms are in high demand. Booking in advance is the best way to save. Visit our friends at
Las Vegas Hotel Deals
and spend one of the following hot dates having fun in Las Vegas:
Thanksgiving Day, U.S November 26-29 (4 day weekend)
Hanukkah Dec. 2 – Dec. 9
Christmas December 25
New Year's Eve-Day December 31 – January 2 (3 day weekend)
Martin Luther King, Jr., Day, U.S (Observed) January 16-18 (3 day weekend)
Super Bowl Sunday February 7
Lincoln's Birthday, U.S February 12
President's Day, U.S (Observed) February 13-15 (3 day weekend)
Chinese/Lunar New Year February 14
Valentine's Day February 14
Mardi Gras February 16
Washington's Birthday, U.S February 22
St. Patrick's Day March 17
Easter Sunday April 4
Cinco de Mayo May 5
Mother's Day May 9
Memorial Day, U.S May 29-31 (3 day weekend)
Father's Day June 20
Independence Day July 4
Civic Holiday, Canada July 31-August 2 (3 day weekend)
Labor Day, U.S September 4-6 (3 day weekend)
Labour Day, Canada September 4-6 (3 day weekend)
Jewish New Year September 9
Halloween October 31
Veteran's Day November 11
Link To Us! – Have a home page, web page, or blog? Link to us, and give yourself and your friends a quick link to find us from your site. Simply link to http://www.accessvegas.com and name the link Access Vegas!
RSS Feed – We now have an RSS/XML feed! Most RSS programs let you visit AccessVegas.com and automatically pull the feed. For those who want to enter it manually, the feed is:
http://www.accessvegas.com/xml/whats-hot.xml
Share the info: Click to Email this newsletter to a friend!
---
For comments or questions regarding our content
or this newsletter write us at
allvegastv@aol.com
.
New to the list? See our Newsletter Archives for back issues and subscription info. Don't hesitate to forward this newsletter to friends and associates.
All contents copyright 2009 Ted Newkirk. All Rights Reserved.
Hotel Rates Published Accurate At Time Of Publication


November 25, 2009 ISSN: 1529-2770 About Us Privacy Policy
No related links found