Serving Las Vegas Visitors and Residents Since 1999
Welcome to the Insider Vibe! This is the official newsletter of AccessVegas.Com. We talk about the Las Vegas activities you really care about.
Can't see all the great photos and graphics? Click to Read This Issue Online! Need to contact us? Send feedback to AllVegasTV@aol.com

Share the info: Click to Email this newsletter to a friend! Missed an issue? Click to Read Back Issues Online.
This newsletter is published exclusively for visitors to AccessVegas.Com and can only be signed up for there. We do not buy or rent lists, and this information is only for our members and guests. If you feel you have received it in error, click the unsubscribe link at the bottom. To subscribe, visit our Newsletter Site.
---
AccessVegas.com Quick Info Menu:
Las Vegas Essentials

Seasonal Vegas Information

Christmas and New Years Coming Soon!

Featured Shows

Photos and Wallpaper
Newkirk's Notes – comments on Las Vegas from AccessVegas.Com publisher Ted Newkirk:
Hello From Las Vegas! – Overnight temps in the upper-30's (F) over the weekend have been a reminder that our two months of winter is almost upon us here. Leave the swimsuit and home, but come and enjoy the things that never stop: Our world-class hotels, shows, and celebrity chef dining!
Plus the NFL playoffs and college bowl games will be in full swing December and January. Even if you don't usually bet sports or if your favorite team isn't playing, you can alway make what we call a "TV bet": This is where you put some money on a nationally televised game (one that will probably be on all the TV's at every hotel and in your room) just to give yourself some rooting interest. Think about it: Going to a movie (with the concession stand) is going to set you back $20 for 1.5 hours. That same amount will give you rooting interest in a three hour ballgame.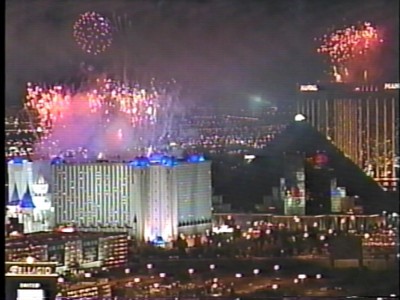 Good News For New Years Eve – Last year, the organizers of Las Vegas' New Years Eve fireworks show really dropped the ball. Fire officials upped the ante for levels of inspections needed before fireworks were shot off from hotel roofs. Fireworks organizers Las Vegas Events decided not to spend the extra (reported) $100,000 for the inspections and simply shot them off from parking garage roofs. Which just sucked. (I like to be eloquent, but no other way to put that debacle). Unless you were right under then, you couldn't see them.
The good news? This year, they will be back to shooting them off from the tops of various hotels along the entire three miles of The Strip offering the incredible show that people have come to expect and enjoy since 2001!
Next week, we'll have a map of fireworks locations for you and in two weeks, we'll have a complete New Years Eve site up giving you everything you'd want to know about enjoying our one-of-a-kind party. In the meantime, a couple of archived videos from earlier this decade to get you in the mood:
Need A New Years Warm-Up? – CityCenter's official December 16'th grand opening will feature plenty of fireworks as well. That particular week (after National Finals Rodeo and before the ramp-up to New Years) is traditionally quiet here. If you can do a pre-Christmas mid-week getaway, you'll find rates as low as $25 for Las Vegas Strip hotels. Check out our friends at Las Vegas Hotel Deals for those rock-bottom rates.
The Latest Vegas Controversy – Is unfortunately something I can't really discuss or this email will end up in too many filters and never make it to you guys. However… if you didn't see the story of the Deja Vu-Mobile on CNN or your local news, check it out at http://www.youtube.com/watch?v=0n4KnW00cC8
I personally can't believe this is an issue. I've never been the the club. I don't know anybody involved with it. I do know this:
1. I've had friends from all over the country asking me about this! Deja Vu was able to do what the LVCVA (convention authority… same people who dropped the ball on the fireworks last year) have never been able to do, and that is Create A Viral Buzz Worldwide About Las Vegas (without tanking the tens of millions the LVCVA goes through with little to show for it… that they skim from each and every hotel reservation you make).
In our current age of cell phones, Twitter, Flickr and similar, you can bet that tens of thousands of photos of this truck have been taken and sent by visitors to their friends all over the world (not to mention posted on blogs, social networking services and online photo galleries). That in just the one week the truck was running.
2. This is Las Vegas, not Birmingham, Alabama. Not Salt Lake City, Utah. The mobile dancers featured are no different than the Crazy Girls ads that have blanketed our tourism areas for years. And not any more distracting than many of the other sights and sounds that drivers face up and down The Strip.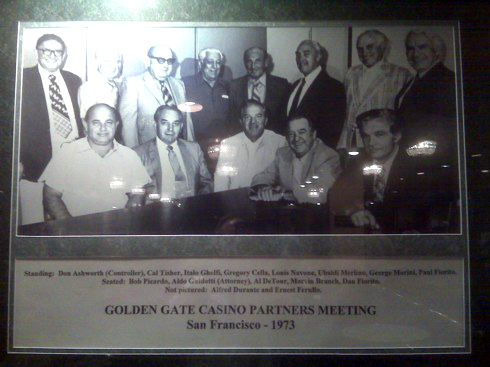 Count The "Trucking Company" Owners – I've been in the Golden Gate Las Vegas downtown many more times than I'll ever be able to count. Hundreds at least, often stopping in for their world-famous shrimp cocktail ($1.99 and a bargain at that) or one of their amazing sandwiches. For as long as I can remember, the deli area has been adorned it the above photo of hotel parters circa 1973. If you think all that stuff about "the boys" running Las Vegas is mostly myth, just take a look at some of these guys.
Twitter Issue – We use software to manage our Tweets (since we send so many of them and want to space them so they don't hit you over the head with five at a time). Unfortunately, a wrong setting started publicly tweeting everyone we made a friend request to and created a Tweet each time. I believe we have this fixed and apologize for the inconvenience. You can follow our Twitter account at http://twitter.com/AccessVegas
Congratulations To Our Winners – Blue Man Group contest winners were Eric from Langley, BC, Paul from Marstons Mills, MA, and Thomas from Cortland, OH. Alize French Restaurant dinner winner was Joey from Cabot, AR. New giveaways coming soon.
Enjoy This Issue!

Ted Newkirk
CEO/Managing Editor
Associate Editor: Amy Rayner-Cooley
News Researcher/Editor: Mark Jacobs
---
Las Vegas Is On Sale!
Get Great Rates At All Hotels:

Bally's from $39,

El Cortez from $28,

Fitzgeralds from $21,

Hooters from $20,

Orleans from $33,

Riviera from $27,

Sahara from $20,

Stratosphere from $22,

Tropicana from $29,

Tuscany from $20,
More Savings At All Vegas Hotels!
---
You Ain't Seen Nothing Yet – It's Vegas, Baby. And, If You Haven't Been In The Last Six Months – Heck, Even The Last Two – There's A Whole New Town Waiting For You To Explore. Here's A Look At The Hottest New Venues, Now And On The Horizon:
* Indulge your sweet tooth at Sugar Factory at The Mirage. From signature 'couture lollipops' to tasty candy confections, this new shop is a sweet lover's dream. And with celebrity fans such as Britney Spears and Kim Kardashian, you never know who might be standing in line with you.
* B.B. King's Blues Club has just made its Las Vegas debut at The Mirage. From early morning to late night, the restaurant serves the best in Creole cuisine (think Lip Smacking Ribs and Banana Bread Pudding) and will feature live music by the 11-piece B.B. King's All Star Band nightly.
* Step into the role of a crime scene investigator at CSI: The Experience at MGM Grand. Based on the top-rated television series, this interactive exhibit challenges guests to solve one of three true-to-life mysteries using real scientific principles and investigative techniques.
* Two of The Strip's newest headliners now can be found at Monte Carlo. Popular Las Vegas music act Zowie Bowie and comedian/impressionist Frank Caliendo are must-see experiences. Zowie Bowie's unique blend of today's hottest dance, hip-hop and Top 40 music has crowds on their feet dancing to the sizzling sound while Frank Caliendo's side-splitting comedy features dead-on impressions of such well-known celebrities as Al Pacino, Robert DeNiro, Dr. Phil and John Madden.
* In December, Las Vegas will change forever when CityCenter makes its December debut. Opening December 1, Vdara Hotel & Spa will offer all-suite accommodations to visitors who love the excitement of Vegas but prefer to enjoy it in a more exclusive, non-gaming and smoke-free environment. On December 3, Crystals will become the city's preeminent shopping destination, pairing dramatic architecture with some of the world's most elite brands including Louis Vuitton, Hermes and Van Cleef & Arpels.
The next day, Mandarin Oriental – renowned for legendary service – will introduce its celebrated hospitality to Las Vegas for the first time. On December 16, ARIA Resort & Casino will deliver an experience like no other before it – from first-in-the-market fine dining concepts by some of the world's premier chefs and state-of-the-art guestroom technology to groundbreaking LEED-certified sustainable design and a thought-provoking public art collection.
Tacos & Tequila Hosts Las Vegas' Hottest Entertainers At Mischieve Wednesdays – The Girls of FANTASY Take On Thunder From Down Under In Live Human Rooster Fight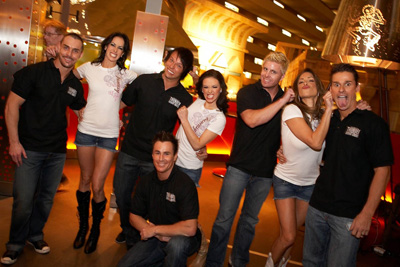 The cast of Thunder From Down Under and FANTASY prepare for the Cock-a-Doodle Duel, all part of T&T's Mischieve Wednesdays. The event lineup included Marty Ammiott, Yesi, David Moore, Craig Stott, Tracey, David Hughes, Jennifer and Matthew Fardell.
Disney's The Lion King And Mandalay Bay Welcome New Young Cubs To The Pridelands – Disney's landmark musical event THE LION KING is pleased to welcome Aubrey Joseph as "Young Simba" and Diamond White as "Young Nala" to the company. Johnson and White made their Las Vegas debuts on Monday, October 19. Produced by Thomas Schumacher of Disney Theatrical Productions, THE LION KING is currently playing at Mandalay Bay Theatre. Aubrey Omari Joseph, 10, is a native of Brooklyn, New York. He loves football, basketball and swimming and was also nominated as student of the month along with the most talented in school. THE LION KING in Las Vegas will be Joseph's theatrical debut.
Sneak Peak At Crystals Retail And Entertainment District CityCenter – As the front door experience to CityCenter, Crystals' winding pathways, extraordinary features and vibrant design elements will welcome guests directly from Las Vegas Boulevard to create their own journey. It will be a magnificent gathering place where guests can shop, dine and explore while enjoying a unique sense of place at the heart of the world-famous Strip. Designed by internationally renowned architects Studio Daniel Libeskind* and David Rockwell, Crystals will be an experiential environment combining dramatic architecture with exclusive offerings from the world's most-elite brands.
Comedy Megastar Bill Engvall Delivers Family-Friendly Humor To the Treasure Island Theatre – Texas native, author and platinum recording comedic sensation Bill Engvall returns to the Treasure Island Theatre December 3-4 and 10-11with his fun-poking, family-entertaining stand-up performance. Showtimes are 9 p.m. What began as a shot in the dark at a Texas nightclub quickly launched funnyman Bill Engvall to comedic superstardom. The Galveston native originally aspired to be a teacher when he discovered his gift for making people laugh.
Holly Madison To Stomp Grapes At The 2009 Beaujolais Nouveau Celebration At Paris Las Vegas On Wednesday, Nov. 18 – Highly anticipated celebrity kick-off for Paris Las Vegas' annual Beaujolais Nouveau celebration. This year the resort welcomes Holly Madison and a Lucille Ball impersonator for a traditional grape stomping that is reminiscent of the iconic "Lucy" scene on the property's Strip-side harvest-themed patio. The daytime event coincides with the start of festivities at midnight in Paris, France. Honoring the long tradition regulated by French law, Beaujolais Nouveau is released no sooner than the third Thursday of November, when it is ready for consumption just weeks after the harvest. Thus, at one minute past midnight, huge celebrations are held all over the world to taste the latest wine of the harvest.
Trans-Siberian Orchestra To Rock Orleans Arena With Two Shows On December 5 – The world-renowned Trans-Siberian Orchestra (TSO), one of rock music's biggest arena attractions, will return to Las Vegas at the Orleans Arena with two shows on Saturday, December 5 at 3 and 8 p.m. The band's concert performances continue to surprise their loyal fan base with a combination of the arena-rock spectacles of Pink Floyd and the musicality of Queen.
Society Cafe Encore Adds Additional Dinner Options With "Triple B" Menu – Find creative twists in burgers and barbeque, topped off with perfectly paired beers. Society CafÚ Encore, recently selected as one of the "Best New Restaurants in America" by Esquire magazine, brings casual dining to a unique, sophisticated level with the new "Triple B" menu.
---
These are only a few of the many Easy Vegas Deals we find each and every week (many of which happen too quickly for newsletter deadline). For a complete and constantly updated listing:
Bookmark and Visit EasyVegasDeals.com daily (Monday – Friday) or

Enter

http://www.easyvegasdeals.com/feed/

into your RSS feed list (for those of you who use RSS/XML feeds) or
---
Members Mania – We Love Our Readers!
Hielloooooooooo Sin City… So what's the latest going on with the Imperial Palace? Are they going to remain open or at some point are they going to demo it as the planned to do a few years back? We always stayed there being it was dead center to it all.We loved it there,we were always treated like "ROYALTY" from everyone.
We come out several times a year ,in fact we were seriously thinking of relocating at some point.
So what's new with the Greatest Entertainers of all time, Our Beloved Siegfried & Roy. We miss them so very, very much,we were one of their favorites we took in their show everytime we came out, which was several time a year. So what does that say about them & for us.We also miss seeing the tigers & other other animals as well. By the was is it true that Celine is going to return to Ceasars in 2010?
Don & Maureen from PA
Ted Responds:
We've debunked the Imperial Palace implosion rumors a number of times, including dismissing them when they very first surfaced. You won't see any demolitions in Las Vegas for a long time. The resort companies learned their lesson.
Roy continues his recovery but between his health issues and the age of the duo, they have done their last performance (which was a special one-time short act at a high-end charity dinner earlier this year).
According to local reports, Celine is trying really hard to have a baby. I can't imagine her returning to Caesars until either she completes the pregnancy or finds that having a second child isn't in the cards right now. Cher announced a ton of new 2010 dates for Caesars and we'll have those tickets available soon.

---
We've enjoyed your newsletter throughout the years but, sad to say, we'll probably be reading it less in the future. We've been going to Vegas at least once, & usually twice, per year for the past 20 years. We last went in January 2009 & stayed downtown where we've been staying for the past 5 years. The January trip was horrible from a gambling point of view. It was like there was a vacuum cleaner sucking up our money as soon as we sat down at the blackjack & roulette tables. It wasn't fun at all. We realize it was just a run of bad luck but it couldn't mask the overall big picture.
How Vegas has changed. The word "value" is nowhere to be found.
Nothing Vegas does now is in the interest of the gambling patron. High table minimums. Blackjack that pays 6:5 instead of 3:2. Even the Plaza & Vegas Club downtown have installed some continuous shuffling machines at the blackjack tables which certainly aren't friends of gamblers. No double downs allowed after splitting at some casinos. We remember slot areas with noise as people cheered their winnings. You'd be hard pressed to hear anything now with the seemingly tight machines everywhere.
We thought we would have mellowed some after the unhappy 1/09 trip & would be looking forward to our annual Christmas trip in December. However, that's not the case. We can't get over the perception that everything that can be done to lessen our chance of winning is being done. It's like being slapped as soon as you get there & then accepting the fact that you'll be continuously slapped as long as you're there. We're tired of being slapped. We start to doubt our intelligence when we rationalize losing by saying we're having fun. This is not fun when the losing & unfavorable rules appear to be so calculated. I think we're done with Vegas.
Skip & Darlene from Houston
Ted Responds:
I appreciate the input and have taken casino management to task over the tight machines and poor odds. Having said that, much has changed in the (nearly) year since you visited.
1. Hotels rooms are a bargain. It isn't even funny how low the prices are. You can stay at a pretty decent hotel/resort for less than a Motel 6 is going to cost you in much of the country.
Especially downtown, food and drink specials abound. They are easy to find… the casinos have basically plastered the front of their buildings with posters and banners touting them. Food on The Strip still can be a little more expensive unless you really keep your eyes open, but specials abound. And not just cheap prime rib or similar. As we've been publishing the past few weeks, many high-end restaurants where dinner for two would normally approach $200 introduce prix fixe (fixed price) menus that are a relative bargain. Once again, you simply need to look around in almost any casino you are in and you'll see these advertised.
Continuous shuffling machines (that shuffle the cards in place of the dealer doing so) don't hurt your chance of winning unless you are counting cards. A recent check of the Las Vegas Club (and many downtown hotels) saw that they were still paying 3-2 for blackjack. Some of the specific rules you mentioned like double-after-split are probably over the head of many readers and to those of you knowledgeable players who look for the very best blackjack rules, ask the dealers about specific rules and walk away if you don't like the answer.
Side Note: I used to be a very proficient card-counter (making modest money at it) back in the mid-90's. Sadly, blackjack is pretty much now unbeatable even for the skilled player. But still lots of fun to play.
However, you brought up a point valid to even the novice blackjack player who are scratching their head over this 3-2 and 6-5 business.
I'll put it in layman terms:
If you bet $10 and get a blackjack, do you want to be paid $12 or $15? Casinos that deal 6-5 blackjack only pay $12 on a $10 bet. Those who deal 3-2 (traditional) blackjack pay $15 for a $10 bet.
Before sitting down at a blackjack table, ask the dealer "How much would blackjack pay on a $10 bet" and get the answer. If they say $12, walk away. (If you don't want to talk to the dealer, just look on the felt and make sure it says Blackjack Pays 3-2). The average player hits a number of blackjacks per hour. If you hit 5 blackjacks in an hour and they are stiffing youá$3 per blackjack (tables that only pay 6-5), you just gave the casino $15 that you didn't have to.
And… you'reáfrankly going to find better gaming conditions than at casinos in other parts of the country. Las Vegas still offers nearly full-pay video poker (and actually full-pay if you want to really hunt it down), and everywhere we see the craps tables full of action as craps is a game where it is tough to twist the payouts without destroying the essential parts of the game.
We're fortunate that both our newsletter subscriber numbers and web traffic is up by double-digits this past year. Visitor numbers are starting to stabilize and rise again as people get home and tell their friends that Las Vegas is a real bargain right now.

---
We love to hear from you, and value your feedback! Here's how to participate:
Drop us an email at allvegastv@aol.com – We read them all!
Call our recorded comment line at 702-507-0055. We listen to every call.
---
More Las Vegas News – Concerts – Events
---
Coming Hot Holidays
– The following dates are huge times to be in Las Vegas, and rooms are in high demand. Booking in advance is the best way to save. Visit our friends at
I4Vegas Discount Las Vegas Reservations
and spend one of the following hot dates having fun in Las Vegas:
Thanksgiving Day, U.S November 26-29 (4 day weekend)
Hanukkah Dec. 2 – Dec. 9
Christmas December 25
New Year's Eve-Day December 31 – January 2 (3 day weekend)
Martin Luther King, Jr., Day, U.S (Observed) January 16-18 (3 day weekend)
Super Bowl Sunday February 7
Lincoln's Birthday, U.S February 12
President's Day, U.S (Observed) February 13-15 (3 day weekend)
Chinese/Lunar New Year February 14
Valentine's Day February 14
Mardi Gras February 16
Washington's Birthday, U.S February 22
St. Patrick's Day March 17
Easter Sunday April 4
Cinco de Mayo May 5
Mother's Day May 9
Memorial Day, U.S May 29-31 (3 day weekend)
Father's Day June 20
Independence Day July 4
Civic Holiday, Canada July 31-August 2 (3 day weekend)
Labor Day, U.S September 4-6 (3 day weekend)
Labour Day, Canada September 4-6 (3 day weekend)
Jewish New Year September 9
Halloween October 31
Veteran's Day November 11
Link To Us! – Have a home page, web page, or blog? Link to us, and give yourself and your friends a quick link to find us from your site. Simply link to http://www.accessvegas.com and name the link Access Vegas!
RSS Feed – We now have an RSS/XML feed! Most RSS programs let you visit AccessVegas.com and automatically pull the feed. For those who want to enter it manually, the feed is:
http://www.accessvegas.com/xml/whats-hot.xml
Share the info: Click to Email this newsletter to a friend!
---
For comments or questions regarding our content
or this newsletter write us at
allvegastv@aol.com
.
New to the list? See our Newsletter Archives for back issues and subscription info. Don't hesitate to forward this newsletter to friends and associates.
All contents copyright 2009 Ted Newkirk. All Rights Reserved.
Hotel Rates Published Accurate At Time Of Publication


November 11, 2009 ISSN: 1529-2770 About Us Privacy Policy
No related links found