Serving Las Vegas Visitors and Residents Since 1999
---
AccessVegas.com Quick Info Menu:
Las Vegas Essentials

Seasonal Vegas Information

Mardi Gras Events
March Madness Events
Cinco de Mayo Events

Featured Shows

Photos and Wallpaper
Newkirk's Notes – comments on Las Vegas from AccessVegas.Com publisher Ted Newkirk:
Hello From Las Vegas! Brrrrr, brrrrr, brrrrr, brrrr, brrrr. No… not here. I mean the rest of the U.S. After some Saturday rain, Sunday is shaping up to be mostly sunny and with an "unseasonably cool" high of 60 degrees. Not much cooler than Miami is for the Superbowl. Speaking of…
What Recession? – I want to make it very clear that I understand plenty of people are hurting badly. And, much of Las Vegas is no exception. But reports of Las Vegas' demise are 100% premature. Visitor volume for Superbowl weekend is up almost 15% over last year. Most other visitor-related numbers are rising. If you aren't here, someone else is sleeping in that hotel room, enjoying your favorite buffet, and seeing that show you really want to see!
Yes… we are going to talk all things Obama vs. Vegas with Oscar Goodman pleading our case. If you missed the flap and care to catch up, click to view Las Vegas Mayor Oscar GoodmanÆs Brash Remarks About President Obama. If you don't care, don't worry. Scroll past my comments and you'll find our usual massive array of Las Vegas information to keep you up-to-speed for your next visit.
"A Real Slow Learner" – is how Las Vegas Mayor Oscar Goodman referred to President Obama's remarks about Las Vegas. To those of you who feel this is blown out of proportion and that Obama was simply giving sound financial advice, please let me note the following:
This is the second time in a year that Obama has specifically pointed out visiting Las Vegas as a negative example in a speech.
Last year when he suggested companies getting government bail-outs should not use the money to go to Las Vegas, the repercussions went much farther. Numerous conventions and gatherings already scheduled for Las Vegas were moved to other cities (all of which are much more expensive for conventions) just to avoid the negative stigma Obama suggested.
Obama could have simply said that you should save for college instead of blowing money on

vacations

or used any number of generic examples. Some would consider a trip to San Francisco (which is beautiful, great history, arts, food — well worth visiting) as "blowing" money. Some would consider a visit to the Gulf Coast for a charter fishing trip as "blowing" money.

What else is a vacation, except a time to go "blow" some money in exchange for a great time? Is spending $400 on a helicopter ride to see the Grand Canyon from Las Vegas any different than spending $400 a night for a bed and breakfast in wine country? Is spending a couple hundred dollars on Las Vegas show tickets any different than spending a similar amount at all Orlando has to offer?

Some might say "Well… he was talking about gambling your money away." Mmmmm…. like that can't be done in the Chicagoland area that Obama otherwise calls home? Or numerous other states with casino gambling?
Obama has no problem taking vacations: New York, Hawaii, you name it. Which is all fine and well with me. I've never been one to gripe that a president spends time where he wants, regardless of politicaláparty. The White House could make anyone stir crazy. But… he didn't say "don't blow money on a trip to Hawaii…".
Is it really Obama's job to give us financial advice? Perhaps he should leave that to Dave Ramsey or Bob Brinker and instead focus on the business of the country's finances.

By the way… someone saving for college is under 21 and absolutely should not be coming to Las Vegas. If he was referring to parents saving for their kids' college education… we have no law (as of yet) mandating that parents must skip vacations and instead placing the money budgeted in their child's college savings account.
I'll give you one more angle on this that I have yet to see anywhere:
Obama nemesis Rush Limbaugh (YouTube) spent the previous week here in Las Vegas judging the Miss American pageant. I didn't hear any of Limbaugh's shows, but by all accounts he thoroughly enjoyed his stay. Contrary to some of the rumors, Obama's remarks about Las Vegas were indeed scripted. They were in the copy of the speech given to the press. Somebody specifically thought the Vegas line out. Could this have been a dig at Limbaugh that simply got out of control?
Sadly, the very rank-and-file hotel union members who supported Obama and helped him win Nevada were the very people his comments last year hurt. And… who are likely to be hurt again with continued comments about Las Vegas which make groups and conventions think twice about how appropriate a Las Vegas visit is.
If you are still in the "this was no big deal" camp, please tell that to the people hurt by the first set of remarks in a town with over 13% unemployment. Mispronouncing the word nuclear may make you look stupid, but kicking a city when it is down shows bad judgment.
Related Videos:
You Can Comment at Las Vegas Mayor Oscar GoodmanÆs Brash Remarks About President Obama
Note: All Views Are Welcome But Comments Will Be Moderated If Not Appropriate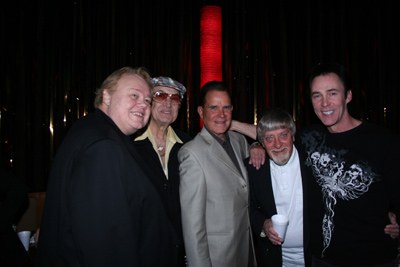 Louie Anderson, Sammy Shore, Rich Little, Pete Barbutti, and Lance Burton (all pictured) joined George Wallace,áBobby Slayton,áPam Matteson,á, Vinnie Favorito, Kathleen Dunbar, Kathy Walker, Pete Barbutti, Rick Faugno, Manny Oliveira, Frankie Scinta and Jeff Hobson performing before a full house at the Funny Bone fundraiser to help animal rescue organizations. It was a full house at the Key West Showroom in The Palms and admission was only $20.
Wait Ted… I would have liked to go. I don't remember reading about that in the newsletter! You are correct. You didn't. Show information came too late to be included in our last issue. HOWEVER… we did post it on our Twitter feed http://twitter.com/accessvegas and we often post late breaking info. You don't have to sign up for Twitter to access the feed (although you should follow us if you have a Twitter account). Simply visit the above link every day or two and see what is new!
The Return Of Jimmy Hopper – Long time Las Vegas visitors know and love Jimmy Hopper (video preview). He was the main headliner at Fontana Room (Bellagio) for years, also playing stints at The Rio and Luxor. He's now back at The Palms. WHEN: Sundays beginning Sunday, February 14, 2010 7:00 p.m. û 10:00 p.m. WHERE: The Lounge inside Palms Casino Resort COST: Performances are free and open to the public; 21 and over; seating is first-come, first-served.
Mozy Saves The Day – This newsletter almost didn't make it. A software glitch overwrote/erased it (taking all of my parts with it). We back up on a regular basis, but this happened while I was working on it. Fortunately, I signed up for Mozy.com a couple of months ago. Mozy works in the background, backing up your computer through the internet. I was able to download a backed up version from the day before which had much of my work intact. Very impressive.
Enjoy This Issue!

Associate Editor: Amy Rayner-Cooley
News Researcher/Editor: Mark Jacobs
---
Las Vegas Is On Sale!
Get Great Rates At All Hotels:
More Savings At All Vegas Hotels!
---
Jay-Z To Perform At The Pearl At The Palms With Guests Young Jeezy And Trey Songz
– After a stellar 2009, surpassing Elvis as the solo artist with the most #1 albums, scoring a #1 single with the anthemic "Empire State Of Mind" and a list of other accolades and performances, Jay-Z launches his BP3 2010 North American tour which will now conclude with a stop at The Pearl Concert Theater inside
Palms Casino Resort
on Saturday, March 27, 2010 at 8:00 p.m. Special guests Young Jeezy and Trey Songz join Jay-Z on the tour.
Ring In Chinese New Year 2010 With MGM Mirage – Resorts Set To Offer Festive Cultural Offerings – MGM MIRAGE will celebrate the 2010 Chinese New Year, the Year of the Tiger, with exhilarating lion dance performances, a concert at MGM Grand and authentic cuisine at a variety of resort restaurants. The Tiger, the third animal in the Asian zodiac, is a symbol of competitiveness, natural leadership and self-reliance.
Ferraro's Italian Restaurant And Wine Bar Raises Funds For Red Cross Aid For Haiti – Las Vegas Renowned Restaurateur and Philanthropist Gino Ferraro is raising funds to be donated to Red Cross for their efforts to aid Haiti. Ferraro's Italian Restaurant and Wine Bar has been serving Las Vegas since 1985. Since, Ferraro's has been a leader and staple in Italian fine dining and wine selection, quality standard and service.
Offer Your Heart On A (Shoe)String (Budget) – Las Vegas Values Allow Sweethearts To Impress While Saving Cash – This month, the resorts of MGM MIRAGE offer couples a way to add sizzle to their relationship without causing their bank accounts to fizzle. Twosome travelers are invited to indulge in a romantic getaway they'll cherish for years at savings they'll value today. Treat your loved one to a tantalizing dinner for two at prices too tempting to resist. Restaurants throughout the resorts of MGM MIRAGE will present enticing Valentine's menus at incredible values.
Kenny Chesney Returns To The Joint At Hard Rock Hotel & Casino Las Vegas – Kenny Chesney may be taking the year off from one of his giant tours, but Hard Rock Hotel & Casino Las Vegas has country music's biggest ticket-seller for four shows in its premiere rock & roll venue The Joint. Easily the most intimate opportunity to see the man who's won 4 consecutive Academy of Country Music and 4 Country Music Association Entertainer of the Year Awards, the Hard Rock has over a third of Chesney's live appearances in 2010.
The Gilley's Bull Returns To The Las Vegas Strip – The mechanical bull that had been victorious in numerous battles waged by tourists, locals and bikini-clad riders is back to defend its new home at Treasure Island, when Gilley's Saloon, Dance Hall and Bar-B-Que opens April 16. Situated next to Siren's Cove, Gilley's will have retractable glass for outdoor Strip seating, and will be accessible from inside the casino and via a newly constructed bridge in front of the Siren's ship.
---
These are only a few of the many Easy Vegas Deals we find each and every week (many of which happen too quickly for newsletter deadline). For a complete and constantly updated listing:
Bookmark and Visit EasyVegasDeals.com daily (Monday – Friday) or

Enter

http://www.easyvegasdeals.com/feed/

into your RSS feed list (for those of you who use RSS/XML feeds) or
---
Members Mania – We Love Our Readers!
We were in Vegas Dec 24 – 27, 2009. We stayed at the Imperial Palace & enjoyed the central location. We also saw the Matsuri show here. Great show. We enjoyed the shopping at Miracle Mile Shops & Fashion Show Mall and also the Bellagio Buffet on Christmas Day.
The traffic on the Strip is really bad. We were going to buy a 3 day transit pass but decided against it when we inched along the Strip the 1st night. We decided to walk everywhere instead. Have they considered have a BUS ONLY lane since there are 4 lanes of traffic ?
Angela
Ted Responds:
Keep in mind that the traffic was holiday traffic. I drove down The Strip on the Sunday night after New Years weekend and it never got backed up at all. A dedicated bus lane would unfortunately make The Strip completely not drivable. And yes… ideas have been floated regarding banning cars from The Strip or making it a one-way street.
If in town during a busy time and staying at (or near) a monorail stop, getting a $30 three-day monorail pass is your best bet. For the price of one traffic-plugged cab ride, two people can ride all day. Your vacation time is valuable when you factor in the cost of getting here, staying here, food, entertainment, etc. Spending a few bucks to save time is a no-brainer.

---
We have visited Las Vegas several times and really enjoy our stays. However, we have never been to the Grand Canyon. We are coming to Vegas this April and would like to do the Gand Canyon bus tour. Could you recommend which tour company to contact as there as so many different ones. Also, is the south rim the best one to visit at the Canyon. Thank you for your help.
J. Berberich from Ontario, Canada
Ted Responds:
Grand Canyon by bus is one very long day. Air costs 3-4 times as much, but only takes 4 hours and you see so much more. If going by bus, check out http://www.accessvegas.com/tours/grand-canyon-west-rim-bus-tour
However, watch the video at http://www.aaavegas.com/fun-and-thrill/grand-canyon… before making your decision.

---
Thanks for the news letters, they are great. My husband & I have been going to Vegas since 2001. In response to Neil Thompson on his order of Chivas on the rocks… I believe that there is no real alcohol in any drink that you order from the cocktail waitress or at the bar. We here in Canada has an alcohol content on the beer bottle label, down there, there is no such thing, even on the imported brands. The only time I have really felt any "buzz" was drinking Fosters ale or a real expensive glass of wine in Paris. We even had one of those yard long drinks from Harrah's one year, nothing. Pretty disappointing when you spend so much on a drink. And what's with the bartender pouring you a drink through a fountain apparatus, appears that he is giving you a cheap mix. I just don't waste the money anymore. We tend to buy from a liquor store & have a drink of two in our room.
Aside from that, Vegas does offer great restaurants, fun in the sun, places to see like Valley of Fire, Mount Charleston, Red Rock Canyon & a short hop to other things to do & see besides the usual gambling. We love it.
Keep up the great work. Hope to be down there again sometime. You are very lucky that you live in such a beautiful part of the world. We'll probably drive next time seeing all the hassles at the airports.
Regards,
Marilyn from Alberta, Canada (eh)
Ted Responds:
Beer in Nevada has no alcohol restriction on how high the content can be and is usually around 5% if memory serves me correct. And, shots of a drink are the real thing. If you are sitting at a bar, you can watch them pour it and I've always experienced getting the proper taste. IE, if I ordered Crown Royal, no question it was Crown.
True that in mixed drinks, you don't know what you are getting. Nor do you have any control over how strong the drink a waitress brings is.
Best current drink "deal" in town? Casino Royale always has $1 beer (selected bottled brand) and $3.50 call shots.
You brought up something that has become increasingly popular as casino resort bar liquor prices have gone up: People are having their cabbie stop them at a liquor store (usually the one across from the Hard Rock) and stock up. The gift shop kittyûcorner from the Sahara also has an extensive liquor store attached. Neither of these outlets are really cheap, but compare it to buying drinks at bars and the savings is substantial.
If in a pinch, most of the hotel gift shops sell a basic liquor selection by the bottle. Prices are higher than you may find at home, but you don't have to cab it somewhere.
Last tip: Beer in the gift shop is usually cheaper than at the bar and you don't have to tip anyone. However… pack a cheap bottle opener as the gift shop may otherwise try to sell you one.

---
Couldn't agree more on your comments on Red Eye flights – we get to spend a whole extra day when we fly Jet Blue and take their 11:50pm flight back to Boston. More money that gets spent in the city too!
I visit Las Vegas 3 – 4 times a year from Cape Cod, MA. My 14 year old daughter and I have a Father/Daughter week long vacation every year over Presidents Day Weekend and for the 4th time in a row she has chosen Las Vegas. I would love to able to take her to a "BIG" show. What would you consider to be an age appropriate show for me to take her to? Something more "glitzy" than the Pet Theatre Show at Planet Hollywood though. Cute but rather lame to put it nicely.
Thanks for putting out such a great tool in promoting Las Vegas. I hope you are recognized by the Las Vegas Convention & Visitors Bureau as well as the City of Las Vegas for the outstanding job you do in promoting your great city.
Neil Thompson
Ted Responds:
14 is an interesting age because in many ways , she has an adult mind and mentality and Pet Theatre just won't cut it. Understood. Tournament of Kings has enough flash and action to be very interesting, and a show that is fun to bond over as you cheer for your knight.
Lance Burton… you can't go wrong for any age. Lion King should not be overlooked. Have her YouTube Terry Fator and see if that is up her alley. Cirque's O is always spectacular.
The LVCVA (Convention Authority) probably hopes that no one ever finds out about me! They manage to flush the greater part of $230 (2010 budget) million of room tax money down the toilet every year, taking credit in the good times (with no acknowledgment to those like me, let alone the massive marketing efforts by all the hotels or other Vegas travel sites) and shrugging their shoulders in the bad times while they keep burning through the cash. Don't take my word for it. Check out this article from our local paper: Think tank critical of LVCVA
They even put out a lousy little monthly email newsletter, selling stuff in direct competition with people like me. I'm competing against a government body that is supposed to be helping people like me, and I'm arguably doing a better job of it. My staff budget would barely be considered petty cash to them and yet they don't come close to disseminating information in the way we do.
I have over 13 years in this business and just about everybody has reached out to work with me in some way or another. The hotels, the shows, the PR agencies, various media outlets (local and national), Vegas writers, bloggers, you name it. Except for the LVCVA. I've kept pretty quiet about this until now… but it dawned on me: What do I have to lose by piping up? Exactly the same amount of assistance I've been getting from the LVCVA for 13 years: Nothing.
End of rant!

We love to hear from you, and value your feedback! Here's how to participate:
Drop us an email at allvegastv@aol.com – We read them all!
Call our recorded comment line at 702-507-0055. We listen to every call.
---
More Las Vegas News – Concerts – Events
---
Coming Hot Holidays
– The following dates are huge times to be in Las Vegas, and rooms are in high demand. Booking in advance is the best way to save. Visit our friends at
Las Vegas Hotel Deals
and spend one of the following hot dates having fun in Las Vegas:
Lincoln's Birthday, U.S February 12
President's Day, U.S (Observed) February 13-15 (3 day weekend)
Chinese/Lunar New Year February 14
Valentine's Day February 14
Mardi Gras February 16
Washington's Birthday, U.S February 22
St. Patrick's Day March 17
Easter Sunday April 4
Cinco de Mayo May 5
Mother's Day May 9
Memorial Day, U.S May 29-31 (3 day weekend)
Father's Day June 20
Independence Day July 4
Civic Holiday, Canada July 31-August 2 (3 day weekend)
Labor Day, U.S September 4-6 (3 day weekend)
Labour Day, Canada September 4-6 (3 day weekend)
Jewish New Year September 9
Halloween October 31
Veteran's Day November 11
Thanksgiving Day, U.S November 25-28 (4 day weekend)
Hanukkah Dec. 2 – Dec. 9
Christmas December 25
New Year's Eve-Day December 31 – January 2 (3 day weekend)
Martin Luther King, Jr., Day, U.S (Observed) January 15-17 (3 day weekend)
Link To Us! – Have a home page, web page, or blog? Link to us, and give yourself and your friends a quick link to find us from your site. Simply link to http://www.accessvegas.com and name the link Access Vegas!
RSS Feed – We now have an RSS/XML feed! Most RSS programs let you visit AccessVegas.com and automatically pull the feed. For those who want to enter it manually, the feed is:
http://www.accessvegas.com/xml/whats-hot.xml
Share the info: Click to Email this newsletter to a friend!
---
For comments or questions regarding our content
or this newsletter write us at
allvegastv@aol.com
.
New to the list? See our Newsletter Archives for back issues and subscription info. Don't hesitate to forward this newsletter to friends and associates.
All contents copyright 2010 Ted Newkirk. All Rights Reserved.
Hotel Rates Published Accurate At Time Of Publication


February 3, 2010 ISSN: 1529-2770 About Us Privacy Policy
No related links found