Serving Las Vegas Visitors and Residents Since 1999
Welcome to the Insider Vibe! This is the official newsletter of AccessVegas.Com. We talk about the Las Vegas activities you really care about.
---
AccessVegas.com Quick Info Menu:
Las Vegas Essentials

Featured Shows

Photos and Wallpaper
Hello From Las Vegas! What a weird few days, with a couple of our hottest days of the summer (a recent night saw the temperature on my back patio RISE from 95 to 96 F between 10:30 and 11:00 PM) to seeing rain and much cooler temperatures come in as the weekend closed out. Highs will be right around 100 F the next couple of weeks, the we start to see cooling in as September kicks in.
Cell Phone Sim Cards – Running late this week as responses to last week's question poured in and we wanted to make sure we didn't miss anything. So many great responses, and we highlight some in Members Mania later in the newsletter.
Las Vegas Restaurant Week -áThree Square (charity) will be partnering up with the finest restaurants in Las Vegas to bring you Restaurant Week Aug. 31 û Sept. 6, 2009. This is your chance to sample the cuisine of world-famous chefs at a fixed price with the proceeds going to help Three Square end hunger in Southern Nevada.
We're talking amazing meals at big name and celeb chef restaurants (many of them on the Las Vegas Strip) at significant savings while you help feed those in need. This is seriously worth taking an unplanned visit over. Full list of restaurants and offerings is at http://threesquare.org/?page_id=710
Frank Fertitta Jr. R.I.P. – Locals casino pioneer Frank Fertitta, Jr. passed away at the age of 70 this past week. He was the man responsible for the Bingo Palace Casino (later to be rebranded Palace Station) and his sons took and turned it into the Station Casinos empire after his retirement in 1993. If the Fertitta name rings a bell, the sons also own UFC (MMA fighting). Our deepest sympathies to family, friends, and the long-time Station Casino employees who knew him.
Gaming Revenue – Recent reports note that gaming revenue (the amount of money you are kind enough to donate in the casinos during your trip) are at 2004 levels. I realize many of the "Johnny-come-latelys" who have only lived in town a few years see the sky falling. But 2004 was a solid year for tourism, and if we are matching those numbers during what many call the worst economy in most of our lifetimes, that's not too shabby.
McCarran Traffic Declines – Since this seems to be the day I am dispelling recession myths: June passenger counts at McCarran were down 11% from the previous year. On the surface, this would seem to indicate a severe drop in visitors.
The reality? Las Vegas is an island, and most of the people living on our "desert island" came from somewhere else and frequently fly "back home" to see friends and family. With money tight, people aren't making as many of those trips, And… many of the more transient residents who would tend to fly in and out more often (mostly in construction) are simply leaving town.
2 Months, $2 Million – I checked out this new show on Game Show Network (Sunday nights, check your local listings). It basically follows four very dorky (but very successful) online poker players who share a luxury house here and have the goal of winning a collective $2 million in 60 days. Worth a watch if you need a Vegas fix (or if it makes you feel better to watch some very wealthy guys make total fools of themselves when hitting on women)!
PT's And Sierra Gold Announce NCAA Football Season "Home Team" Bars – PT's and Sierra Gold (the dominant bar chain in Las Vegas with well over 30 locations) are kicking off the college football season with a lineup of taverns dedicated to serving college alumni and fans throughout the Las Vegas Valley.
Represented are many of the more popular college football schoolsáplus some locations which will cater to specific conferences. The locations listed WILL show and promote their "home team" game each week (unless the game simply isn't available through the many sports channels they subscribe to). Food and drink specials will be available at all locations.
Whether you live here or are just visiting, this is a great way to root on your team and probably get to meet and hang out with people from your neck-of-the-woods. Full list of which bars are supporting which teams at PT's/Sierra Gold kick off the college football season with an all-American lineup
15% – Latest projections are that overall Nevada unemployment will hit 15%. Service industries are only down 5% (from last year) and hotel/gaming down 9%. Construction has taken the biggest hit (down 22%).
This confirms what I noted last issue: Impact to Las Vegas' true core industries is moderate. The Resort and Service sectors have always been the foundation of our economy. The construction boom was an abberration and with the glut of empty homes, empty office space, and unfinished hotels, I don't expect construction to be a factor for upwards of a decade. I do see tourism rebounding strongly by spring. It was never as soft as the national media tried to make it appear.
The kind of room deals now enjoyed will evaporate over time. If you are debating about splurging to stay at one of the higher-end hotels, or are usually a three-day visitor and have always wanted to enjoy a week here so you can really pace yourself and do everything you want, now is the time.
You don't want to be kicking yourself for missed opportunity a couple of years from now. Visit our friends at Las Vegas Hotel Deals and see what hotels such as Wynn/Encore, Venetian/Palazzo, Bellagio, Caesars, Planet Hollywood and MGM Grand are going for. You just might be surprised just how low current room rates are.
Enjoy This Issue!

Ted Newkirk
CEO/Managing Editor
Associate Editor: Amy Rayner-Cooley
News Researcher/Editor: Mark Jacobs
---
Las Vegas Is On Sale!
Get Great Rates At All Hotels:

Bally's from $49,

El Cortez from $9,

Fitzgeralds from $21,

Hooters from $20,

Orleans from $28,

Riviera from $27,

Sahara from $26,

Stratosphere from $40,

Tropicana from $25,

Tuscany from $19,
More Savings At All Vegas Hotels!
---
Kelly Clarkson To Play The Joint At Hard Rock Hotel & Casino Friday, Nov. 6
– Pop Megastar Kelly Clarkson will be bringing her much anticipated All I Ever Wanted Tour to
The Joint
this fall. Joining Clarkson are red-hot Australian sister duo The Veronicas and rising band Parachute. Clarkson has sold more than 20 million albums since her 2002 debut.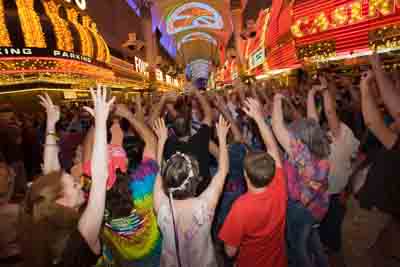 Fremont Street Experience Celebrated 40th Anniversary of Woodstock With "Woodstock Tribute Palooza" August 14-16 – Fremont Street Experience took guests back 40 years with the "Woodstock Tribute Palooza: 40th Anniversary of Woodstock" Friday, August 14 through Sunday, August 16.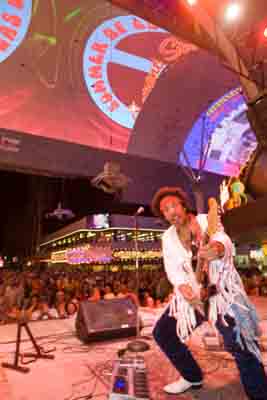 "Woodstock Tribute Palooza: 40th Anniversary of Woodstock" relived the historic music festival from August 1969 with the countries best tribute artists, paying homage to Jimi Hendrix, Janis Joplin, The Who, Joe Cocker, The Grateful Dead and Creedence Clearwater Revival.
Tickets For Pacquiao vs. Cotto, "Firepower" On Sale – MGM Grand To Host Event Saturday, Nov. 14 Live On HBO Pay-Per-View« – The date is set for the mega-fight between boxing's No. 1 pound-for-pound king and reigning Boxing Writers Association of America's (BWAA) Fighter of the Year, Manny "PacMan" Pacquiao, and the pride of Puerto Rico and three-time world champion Miguel Cotto. Manny Pacquiao vs. Miguel Cotto, "FirePower" will take place Saturday, Nov. 14 at the MGM Grand Garden Arena and will be televised live on HBO Pay-Per-View beginning at 9 p.m. PST/6 p.m. PST. "Manny Pacquiao and Miguel Cotto have reached an agreement to fight at the MGM Grand in Las Vegas on Saturday, Nov. 14," said Top Rank Chief Executive Officer Bob Arum.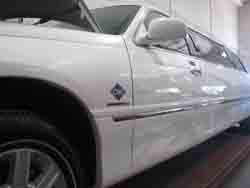 Citycenter Drives Sustainability Efforts With World's First Stretch-Limo Fleet Powered By Clean-Burning Compressed Natural Gas (CNG) – Keeping with its commitment to sustainability, CityCenter has commissioned the first stretch-limo fleet powered by compressed natural gas (CNG). Developed by Krystal Enterprises, the world's largest manufacturer of stretch limousines, in collaboration with Clean Energy Fuels, BAF Technologies and Ford engineers, the 26 silver, 72-inch Lincoln Town Cars are 100 percent dedicated to utilizing CNG and will service CityCenter's ARIA Resort & Casino and Vdara Hotel. "Commissioning the first CNG stretch-limo fleet is a demonstration of CityCenter's commitment to environmental responsibility, while never sacrificing guest experience," said Bill McBeath, president and COO of ARIA Resort & Casino.
Kid Rock To Perform At The Pearl At The Palms – Rocker Kid Rock brings his badass live performance to The Pearl Concert Theater inside Palms Casino Resort on Thursday, September 17, 2009, at 8:00 p.m. Grammy award-nominated Kid Rock released several successful albums including Devil Without A Cause in '98 which includes smash hits, "Bawitdaba," "Cowboy" and "Only God Knows Why" in addition to becoming Diamond Award certified by RIAA with more than 10 million copies sold.
M Resort Spa Casino Debuts As Official Production Location For Bravo's 'Top Chef: Las Vegas' Season Six – No. 1 Food Show On Cable Affirms Resort's Commitment And Passion For Great Dining – The sixth season of the No. 1 food show on cable, Bravo's Emmy and James Beard Award-winning series returns when "Top Chef: Las Vegas" premiered Wednesday, August 19 at 9 p.m. ET/PT. The M Resort Spa Casino, the newest resort in Las Vegas, served as the official production location for the show. Chef'testants competed throughout the property, during the filming process, stirring up amazing food and fierce competition to become Top Chef.
The Temptations Return To The Orleans Showroom September 17-20 – For more than 40 years, The Temptations have shined as pioneers of popular music with decades of smash hits and sold-out performances. From September 17-20, Otis Williams, Bruce Williamson, Terry Weeks, Ron Tyson and Joe Herndon will bring classic Motown to The Orleans Showroom for four nights, starting at 8 p.m. each evening. The Temptations are central characters in the history of contemporary American pop.
---
These are only a few of the many Easy Vegas Deals we find each and every week (many of which happen too quickly for newsletter deadline). For a complete and constantly updated listing:
Bookmark and Visit EasyVegasDeals.com daily (Monday – Friday) or

Enter

http://www.easyvegasdeals.com/feed/

into your RSS feed list (for those of you who use RSS/XML feeds) or
---
Members Mania – We Love Our Readers!
Last issue, we asked about the best way for our international readers (who make up 25% of our readership) to enjoy using a cell phone here in Las Vegas without paying obnoxious international roaming charges. We were literally swamped with response, and I want to thank everyone who dropped us a line (even if I couldn't get back to you personally). We are printing responses that covered just about every idea that was submitted.
Thanks to everyone!

---
I have been a subscriber for about a year and a half now, and always get excited to read my newest issue of your newsletter.
Iáam from Canada, and my wife and I fell in love with Las Vegas last April when i came to Vegas for the first time, Since then, I have been coming (on average) every 7 weeks. In fact i am here currently, and this will mark my 9th visit since last April.
Iárun my own business so it is essential I have my cell phone with me at all times. Roaming charges nearly broke me my first visit, so the solution that works wonders is as follows:
Buy a phone with a sim card with no plan, and unlock it (you can usually find unlocked phones on Ebay, or even locally on kijiji.com or craigslist.org). It is your choice if you want a dirt cheap phone or one you want to use full time. I personally enjoy the latest and greatest gadgets so i have an iPhone, which is unlocked.
When I am in Canada, i have a sim card with my own provider (in Canada it is Fido, or Rogers that offer sim cards type phones). I have a plan where I use it when i am there, then when i come to Las Vegas, I bought a GoPhone sim card through AT&T (T Mobile also offers sim cards but their rate was not as good a deal) which i believe is about 20 or 25 dollars, and i think it comes with some air time too.
Then I purchase as much time as i need when i am here, usually 100.00 in time is good because the time doesn't expire, it lasts 1 year and they give you 10 dollars additional free. if you need less time, such as 25 dollars, the time expires in 90 days I believe. the minutes also will probably roll over if you keep adding more time, but you don't have to.
when i make a call to Canada it costs .29 per minute, but when i receive calls from Canada, it costs only .10 a minute, so i generally will call someone in Canada, and ask they call me right back so its cheaper for me. Furthermore, when I am making calls here in the U.S. it costs 10 cents a minute anywhere in the us including local calls (or better yet,áfree to other AT&T clients).
This has saved me a fortune on roaming charges. Unfortunately Internet is not quite as cheap (at least for the iPhone, mobile Internet may be cheaper, it all depends on how much data you use, but roaming Internet with a Canadian phone provider will give you a big surprise when you get your bill) so I strongly recommend using my advice to any Canadians who come here or anywhere to the us frequently or even once in a while.
Hope this helps!
Justin from Edmonton, Alberta Canada
---
Love your newsletter!
I don't know if this is what you're looking for, but you can always buy a very cheap Virgin Mobile phone or Go phone for around $15 at Walgreens or Wal-Mart, and just about treat it like a disposable unit.
Virgin's no contract plan is 25 cents per minute for the first ten minutes, and then 15 cents per minute after that. And you can buy a reloading cards for $15/$25/$50, or reload over the phone with a credit card.
Kara Catherwood
Editors Note: Walgreens has three locations on The Strip: Across from Monte Carlo, bottom floor of Palazzo, and across from (what used to be) The Stardust, just a couple blocks north of Wynn Las Vegas. You'll also find one downtown at the east end of the Fremont Street Experience.
---
I'm from Germany and I always use the service of www.cellion.de. They send a new sim card with a new number. The cost is 39c (EU) / minute if I phone to Germany and 29c in USA and when I receive a call from Germany. No extra Money for the card and no extra fee.
Thats 1,20 EU less / minute than I would pay at my local company.
Martin (From Germany)
---
Friends of ours from Canada met us in Vegas for a few days. Before the trip I went to Target and bought a 19.00 (on sale for 15.00) T-Mobile "pay as you go" phone. After activating it, I mailed it to them so when we arrived in Vegas we could contact them. It worked perfectly.
I suppose they could have just had the sim card but I didn't know if their phone was compatible. So it cost me $15 bucks and they got about 30 minutes with purchase which is enough to keep in touch for a few days.
Bob
---
My suggestion is to just get a phone like a Tracphone and a 30 day air time card.. There are also other brands available.
Sandy Paws Diving
---
We love to hear from you, and value your feedback! Here's how to participate:
Drop us an email at allvegastv@aol.com – We read them all!
Call our recorded comment line at 702-507-0055. We listen to every call.
---
More Las Vegas News – Concerts – Events
---
Coming Hot Holidays
– The following dates are huge times to be in Las Vegas, and rooms are in high demand. Booking in advance is the best way to save. Visit our friends at
I4Vegas Discount Las Vegas Reservations
and spend one of the following hot dates having fun in Las Vegas:
Labor Day, U.S September 5-7 (3 day weekend)
Labour Day, Canada September 5-7 (3 day weekend)
Jewish New Year September 19
Halloween October 31
Veteran's Day November 11
Thanksgiving Day, U.S November 26-29 (4 day weekend)
Hanukkah Dec. 2 – Dec. 9
Christmas December 25
New Year's Eve-Day December 31 – January 2 (3 day weekend)
Martin Luther King, Jr., Day, U.S (Observed) January 18-20 (3 day weekend)
Super Bowl Sunday February 7
Lincoln's Birthday, U.S February 12
President's Day, U.S (Observed) February 13-15 (3 day weekend)
Chinese/Lunar New Year February 14
Valentine's Day February 14
Mardi Gras February 16
Washington's Birthday, U.S February 22
St. Patrick's Day March 17
Easter Sunday April 4
Cinco de Mayo May 5
Mother's Day May 9
Memorial Day, U.S May 29-31 (3 day weekend)
Father's Day June 20
Independence Day July 4
Civic Holiday, Canada July 31-August 2 (3 day weekend)
Link To Us! – Have a home page, web page, or blog? Link to us, and give yourself and your friends a quick link to find us from your site. Simply link to http://www.accessvegas.com and name the link Access Vegas!
RSS Feed – We now have an RSS/XML feed! Most RSS programs let you visit AccessVegas.com and automatically pull the feed. For those who want to enter it manually, the feed is:
http://www.accessvegas.com/xml/whats-hot.xml
Share the info: Click to Email this newsletter to a friend!
---
For comments or questions regarding our content
or this newsletter write us at
allvegastv@aol.com
.
New to the list? See our Newsletter Archives for back issues and subscription info. Don't hesitate to forward this newsletter to friends and associates.
All contents copyright 2009 Ted Newkirk. All Rights Reserved.
Hotel Rates Published Accurate At Time Of Publication


August 19, 2009 ISSN: 1529-2770 About Us Privacy Policy
No related links found