Serving Las Vegas Visitors and Residents Since 1999
Welcome to the Insider Vibe! This is the official newsletter of AccessVegas.Com. We talk about the Las Vegas activities you really care about.
---
AccessVegas.com Quick Info Menu:
| | |
| --- | --- |
| Las Vegas Essentials | Featured Shows |
Newkirk's Notes – comments on Las Vegas from AccessVegas.Com publisher Ted Newkirk:
Hello From Las Vegas! – A "cool and humid" (for us) Las Vegas. On Sunday, the 10 year anniversary of the 9/11 attacks, I was snoozing during the afternoon and was jolted by a tremendous noise. I don't live that far from The Strip and was jolted up. Fortunately, it was "only" a torrential hail storm with cloudy skies and lighting. We pretty much never get hail and it seemed really surprising considering that the temperature at that time was well into the 80's. Weird coincidence that it happened on 9/11.
The weather wasn't done yet! Starting about 4 AM on Wednesday, it started pouring rain. For hours on end. We had flooding all over town, including cars getting stalled and floating away. We'll have those stories and some video next week.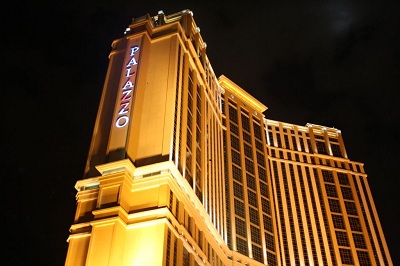 Palazzo Las Vegas' new LED building lights were turned a patriotic color scheme over the September 11 weekend. It looked very impressive and the photo does not do it justice.
Fall "Membership" Drive – We've been publishing this complimentary newsletter since 1999 and we'd really like to keep it that way. However, I won't beat around the bush: We crunched the numbers and figured out that if we charged a nominal $23.95 per year (less than $2 a month — not much more than a soda or coffee that you grab at the convenience store without even thinking about it), we would bring in more revenue even if we lost the vast majority of subscribers. To put things in perspective, another Las Vegas publication similar to ours charges even more than we're proposing and only publishes monthly!
We do need to increase revenue to ramp up our plans to upgrade our coverage. We live in a streaming video world, yet we do no streaming video. We live in a social networking world, but we don't have the budget to pay someone to hang out and interact and research and answer all of your Las Vegas questions. You get the picture. And it all takes money. Just like you don't work for free, I really can't get someone to devote 40 hours a week to helping us help you at no cost.
As I noted, we'd like to stay the course keeping things complimentary. However, to do so we need a little participation from you, our dear readers. If we can bump up our subscriber numbers so that we increase our advertising revenue (the more readers, the more we can ask in ad rates) and if we can bump up other participation in what we do, we can maintain the status quo.
If you enjoy this newsletter and find it valuable in helping you get the most out of your Las Vegas vacations (and I know you do because many of you write in and tell us), here are some things you can do to help. And the more of them that you do, the more you are helping say "thanks" for all the time and hard work we've dedicated to you.
We know that many of you post trip reports or even just short notes to Tripadvisor and other travel message boards and forums. Don't be shy about including the fact that the ACCESS VEGAS newsletter helps provide you valuable information that helps your Vegas visits. Some venues won't let you post a link, but at least people can do a web search for it.
Book though he links we provide in this newsletter and at AccessVegas.com. I'm constantly amazed at people who write and ask us for personal Las Vegas advice and we find out they booked elsewhere. And they are asking us because that other site they spent their money with never got back to them (surprise, surprise, surprise). We like to help, but it isn't very polite to book elsewhere then expect us to spend time helping you with all your personal trip questions. We simply don't have the staff… because we can't afford the staff… because you booked with someone else!

* Our hotel booking partner Las Vegas Hotel Deals has some of the best rates in the industry. If you book elsewhere, at least compare what they are offering. They buy large blocks of rooms at wholesale from the various hotels and pass the savings along. Sometimes, they are even less expensive than the price the hotel offers you on the "official" site.

And no, they aren't second-choice rooms. You are placed into the room you get at a hotel generally based on what they have available when you arrive. If you go to the Las Vegas Hotel Deals site and call them to book (perfectly understandable), you need to specify that you found about about them from ACCESS VEGAS. That way, they know that their advertising dollars are well spent supporting what we do here. (If you book online, they know we sent you from the link we use to send you to them).

* Go see one of the main shows we advertise here. Right now, those are Jersey Boys, Peepshow, Phantom – The Las Vegas Spectacular, and The Lion King. These are not third-rate shows. These are the biggest, best, award-winning shows on the Las Vegas Strip. They believe in supporting us. They see the quality of the content that we produce for you. They are all fantastic shows. Go see one and remember to book by clicking on one of the ads in this newsletter. You'll be happy you did — we've received zero bad feedback about any of these shows — and it will show support for what we are doing here. By the way, if you want to see The Lion King, book soon. Their unique Vegas run is over at the end of the year.

* Going to see another show or looking for an interesting tour? Go to AccessVegas.com and browse and select and buy at the site. We've recently made big changes in the companies we use for Las Vegas show tickets and we're bringing you some of the best pricing and selection.

Go follow (like) the Access Vegas Facebook Fan Page. We're now posting regularly, and sometimes with things that don't make the newsletter deadline. And, we're actively responding and participating with you now. When you like a post (or especially if you respond to a post or ask us a question), your friends also find out about us. And, it will give you a chance to start meeting other "friends" who enjoy Las Vegas.
Follow us on Twitter at http://twitter.com/AccessVegas We're closing in on 10,000 followers (more than some of the big hotels have), and yes… those numbers matter. If everyone who subscribes to this newsletter (who has a Twitter account) followed us, that number would spike in a HUGE way. And… in this day of social media, it does matter Potential advertisers look at our reach. Same with Facebook follower numbers.

Here's the deal: We treat our Facebook and Twitter followers with respect. We don't spam a bunch of garbage. We don't post three times ever hour (unless breaking info warrants it). You won't see 40 posts a day that are basically @joe_whoever Oh, saw that… very funny where you are otherwise completely out-of-the-loop. Just good, solid Las Vegas information.
Well, there you have it. We can go either way on this thing but I'd love most to be loyal to our long-time readers and keep this complimentary. Remember, we're independent. No government money, no local "tourist promotion" money. Which is how we like it so we can speak our minds. But freedom comes with a price.
To those of you who are already doing the above, we are greatful and offer our many thanks for your support. If we must go the paid route, we will absolutely work it out so that a year's free membership comes with any purchase from our sponsors. If you can help me with the above, I look forward to helping you have the best Las Vegas vacation you could ever imagine year-after-year for many years to come.
Enjoy This Issue!

Associate Editor: Amy Rayner-Cooley
News Researcher/Editor: Rick Ziegler
---
---
Starlet Angel Porrino Returns To Take Center Stage In Peepshow At Planet Hollywood Resort and Casino – The E! Network's 'Holly's World' co-Star and 'Absinthe' Performer Angel Porrino Returns to Join the Cast of PEEPSHOW as 'Bo Peep' – PEEPSHOW, Las Vegas' hottest show and only striptease spectacular is pleased to announce that Las Vegas local Angel Porrino, co-star on the hit TV series, 'Holly's World' on E! and featured performer in 'Absinthe,' will once again take center stage to take over the role of 'Bo Peep,' a modern woman who discovers her sexuality, during Holly Madison's hard-earned vacation. Porrino has been confirmed to reunite with the cast from September 19-25, 2011 and December 5-11, 2011 to perform alongside a sizzling ensemble of sexy PEEPSHOW GIRLS – showstoppers from film, TV and Broadway; Cheaza, the beautiful Peep Diva; and Josh Strickland, PEEPSHOW male lead singer and 'Holly's World' co-star.
Lagasse's Stadium at The Palazzo Kicked Off Football Season – Lagasse's Stadium inside The Palazzo kicked off football season with a bang tonight. While guests enjoyed Emeril Lagasse's signature dishes, fans were decked out in their favorite Steelers and Packers team colors while catching all the action on one of the 120 flat screen TVs. A guest commented, "I've been all over the world but never been to a place like this where you can bet and have a great time." Photo credit: Robyn Preske, IS Photography, ImagesOfVegas.com
Rediscover RMS Titanic One Artifact at a Time – Artifact Feature: The Big Piece – Twenty six years ago this month, the wreckage of the most infamous ship in history, RMS Titanic, was discovered at the bottom of the North Atlantic. Today, the largest artifact ever recovered, appropriately called The Big Piece, can be found in an unlikely place; in the middle of the desert at Titanic: The Artifact Exhibition at Luxor, Las Vegas.
The Sporting House Bar and Grill Las Vegas Kicks Off New Promotions for 2011 Football Season – The Sporting House Bar & Grill at New York-New York Hotel & Casino kicks off the 2011 NFL and collegiate football seasons this week with a bang! As teams get ready to march down the field, guests can score with promotions including Thursday Night Bucket Night, Sunday Night Touchdown Table and Monday Night Blitz while enjoying delicious food in a family-friendly atmosphere.
Seasonal Menus at ARIA Restaurants Highlight Culinary Trends for Fall – October and November Menus Feature Squash, Apples, Plums, Quail, Chestnuts, Cranberries and More – ARIA Resort & Casino will launch spectacular menus this October and November designed around the fresh culinary produce of the season. ARIA executive chefs will blend favorite ingredients such as lobster and Kobe beef with seasonal elements such as pears, squash, turnips, cranberries and apples infusing each dish with current and delicious items that highlight the very best of fall's culinary trends.
Special Event Updates for Gilley's Saloon, Dance Hall & Bar-B-Que NFL and college football specials – Treasure Island, Las Vegas keeps the fun going all week long within Gilley's Saloon, Dance Hall and Bar-B-Que with new special events including a party to kick off the National Football League's (NFL) first game of the season September 8.
The game will be broadcast on most of Gilley's flat screen televisions, with Gilley's Girls serving four Budweiser/Bud Light Bottles for $15 and $3 draft beers during the game, which begins 5:30 PST. The specials will be available each Saturday, Sunday and Monday during the college football and NFL regular seasons.
Each week, Gilley's offers the following:
Andre's At Monte Carlo Launches New Bistro Menu For Fall – Incorporating the Freshest Seasonal Ingredients, Andre's New Bistro Menu is Ideal for Guests Who Seek a Casual, Yet Upscale Dining Experience at a Great Value!
Andre's Restaurant & Lounge at Monte Carlo is now serving fall flavors with our new Bistro menu. Served a la carte on our second level, the new menu offers delectable cuisine for all of our guests, at a Great Value! The indoor Terrace setting is perfect for couples or small groups and the private dining salon is spacious enough for groups ranging from 15 to 45 people.
The bistro menu is as follows:
---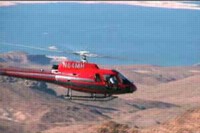 Grand Canyon Explorer Tour û Fly aboard Maverick's Beechcraft 1900D aircraft on a 40-minute flight to the Grand Canyon's South Rim where your ultimate adventure will begin. Enjoy the awe-inspiring vistas, panoramic overlooks and trails that can only be accessed from inside the park as your journey continues with ground transportation into the Grand Canyon National Park. Absorb the magnificence of the Grand Canyon and capture memories to last a lifetime as you enjoy a gourmet box lunch. Operator Maverick Airline a division of the Maverick Aviation Group.
---
Members Mania – We Love Our Readers!
You keep mentioning Las Vegas as a retiree dream. We're with you all the way except for one thing. WeÆre English so canÆt come for more than a few weeks!
Somebody should persuade the Governor to look at introducing a "Silver Card" for anybody worldwide looking to retire to Nevada or anywhere else we all like to go. It would be the same as a Green Card but for people of retirement age. If we could meet the criteria i.e. enough money to support ourselves we would be allowed in. It could be re-assessed every two years or so and it could only be a win-win scenario. We would buy houses, we would spend money. We would cost the state nothing but put a heck of a lot in!
Harold & Liz (Sherwood Forest, England)
Shortly coming for visit number 24 and already owning a house in LV
Ted Responds:
What a great idea! Immigration is handled at the Federal level (unfortunately, our governor can't do much about it) but I absolutely agree that a residence card for retirees of sufficient resources would be an excellent idea. Last I checked, you aren't the people trying to come into our country and blow things up.
I'm actually going to write my two U.S. Senators (one of which is the "all powerful" Harry Reid, who I think would love to champion this kind of legislation) and I'll let you know what they say about the issue. This idea could be a boon for places like Nevada and Florida which are both hurting economically.
This is a great time to address a thought I often hear (especially from those who cover Las Vegas from out-of-state but don't move here): If I moved to Las Vegas, it wouldn't be "special" anymore and I wouldn't get that rush I get from visiting.
Listen… if you love Las Vegas like I do, the rush never goes away. I can see 2/3 of The Strip from the main street in my neighborhood. I never get tired of it. It never stops putting a smile on my face. I still get that surge of adrenalin every time I hit The Strip or Fremont Street.
In fact, living here solves the biggest serious downside of a visit: You are no longer pressed for time. Let's use the Stratosphere Tower as an example. I always enjoy going up there. Especially around sunset, but anytime of the day or night it provides an awesome view. When you are on vacation, you have to weigh the time and cost to get there and back and the time you spend in the tower. The clock is always ticking. So much to see and do, and so little time to do it all.
When you live here, that little problems goes bye-bye. If I want to hop in my car and go up to the Strat Tower, I just do it. Have a real special day coming up (birthday, anniversary, something good to celebrate) and want a world-class restaurant? Your only problem is deciding which world-class restaurant to enjoy.
I love the $1.99 shrimp cocktail at the Golden Gate. So when I want one, I hop in the car and go get one and then usually stay and enjoy the live music downtown. If I want a cocktail, I can head to a local bar. Or I can head to one of the great lounges on The Strip like Rhumbar and soak up the view and atmosphere.
Many people think about visiting the Grand Canyon or even Hoover Dam, but don't want to deal with the time and expense. (Both are well worth the time and expense). When you reside here, no big deal to take 1/2 the day to hit Hoover Dam, or spend the time to go see the Canyon.
And guess what? Even living here, you'll never be able to see or do everything. There is simply that much fun to be had!

---
Thank you very much for an informative, fun and wonderful e-newsletter. I subscribed to this about a year ago when we starting enjoying Vegas again this time on a basis. My husband's 91 year old grandmother recently bought property out there as her "second home". She is still extremely independent and loves everything about Vegas, so we all look forward to your weekly emails.
We really love all the fact your newsletter is not all about gambling as none of us our much into gambling. Are there any "food tours" or taste of Vegas planned for the year? We tried to read things on the Chamber of Tourism site but they seem to be having some web issues.
I have to say on behalf of my family, thanks for all you do and keep up the great work! We enjoy every last sentence you publish!
Maria Vu-Ta
Ted Responds:
First of all, my hat is off to your Grandmother. Mine passed away a few years ago (she lived her final years here) and she also loved to get out and play bingo and a few other games. We routinely hear from readers in their 80's who still enjoy Las Vegas. Having some fun keeps you young!
We set out to be a lifestyle publication instead of a gaming publication. Look… I used to count cards and sports bet professionally. I know the gaming side. But most of you just come to have fun. You may (or may not) choose to try your luck. But you will eat, see some attractions, take in a show, have a few drinks.
We have taken your note to heart and did publish quite a bit of information regarding restaurant week this year. A couple of the other things we need to work on are listing all the various prix fixe menus that many of the nicer places have (which lets you sample their menu without hurting your wallet so bad) and also creating a yearly listing of recurring events (especially the food-related ones). Which is of course another reason we need to add help, which is exactly why I spent the first part of this newsletter appealing for everybody's help to get us there!

---
Being from Canada, we enjoy being kept up to date on whats happening in Vegas. Usually get away twice a year and always end up in Vegas! Find AccessVegas to be the best site available keeping us informed.
Returning in Nov. to Vegas, hoping to see Rod Stewart. Wondering if the renovations to the Plaza Hotel will be complete by then? Looking forward to seeing the old Plaza all fixed up! Keep the good stuff coming!
Tom and Cindy
Ted Responds:
The Plaza has been "soft opening" and looks great. We'll have a full first-hand report and photo set next issue, and have links to news stories in the More section below. Thanks for the kind words!

We love to hear from you, and value your feedback! Here's how to participate:
Want to comment on a current reader post? Use the comment box on that particular web page. Many of the stories we post also have comment boxes at the end of the story. Make your voice heard!
Drop us an email at AccessVegas@AccessVegas.com – We read them all!
Call our recorded comment line at 702-507-0055. We listen to every call.
---
Plaza Hotel Reopens!
No related links found