Serving Las Vegas Visitors and Residents Since 1999
---
AccessVegas.com Quick Info Menu:
Las Vegas Essentials

Seasonal Vegas Information

Mardi Gras Events
March Madness Events
Cinco de Mayo Events

Featured Shows

Photos and Wallpaper
Newkirk's Notes – comments on Las Vegas from AccessVegas.Com publisher Ted Newkirk:
Hello From Las Vegas! Well, the firestorm of comments regarding President Obama's Vegas remarks (see last weeks Vegas Vibe) came in hot and heavy. This kind of reminds me why we steer way clear of politics here. Don't get me wrong: I'm an adept pundit on politics, but we're all about Vegas and fun.
However, the Obama remarks could not be ignored. Especially in light of news this week that convention visitor volume fell almost 25% in 2009. Can some of be attributed to the recession? Of course. But even if Obama's February 2009 comments were responsible for only 5% of that (and conventions did cancel Vegas and move elsewhere at that time), that would be 5% too much.
Don't Shoot The Messenger – We'll publish a fair sampling of reader input on this issue in Members Mania. As always, I'll lay my best thoughts out on the table in response. If you don't like what some people wrote, don't yell at me. I'm mostly acting as the conduit. Also, we'll go heavy on real estate news this issue as people have been inquiring.
The Tide Is Turning – We've seen four straight months of rising visitor counts. From time-to-time we get email saying Las Vegas has changed and we're never coming back. Well… Las Vegas has changed again, and people are coming back. Rooms are dirt cheap, many fine dining restaurants are offering incredible prix fixe (fixed price) meals in the $40 and $50 range, and show prices have moderated. Oh… almost forgot:
Another Super Sunday In The Books – The most watched game in Superbowl history created a jam-packed, adrenalin filled weekend here. Over $82 million was bet on the game and because of a combination of some huge money (multiple $1 million-plus bets according to many sources) on the Colts combined with the popularity of parlay cards (rip offs in most cases… go play roulette instead), sports books held on to almost $7 million.
NFL vs. Las Vegas Continues – For years, the NFL prohibited anything Las Vegas (the hotels, the city, you name it) from advertising on the Superbowl. This year they mildly relaxed their rules stating that an ad simply shouldn't show hotel/casinos or anything related to gaming. While the LVCVA (people who spend the bed tax money) opted not to place an ad, car maker Kia featured a memorable Las Vegas segment in their commercial airing during the third quarter of the game: Click to view Controversial Kia Sorento "Las Vegas" Superbowl Commercial
The commercial "broke" the NFL's rules and got them in a huff. Las Vegas got "advertised" on the "big game" without spending a dime. Mayor Goodman even commented that the ad was better than some of the ads LVCVA puts out (as the LVCVA had no involvement in the creation of the commercial). The LVCVA tried to take some credit, by noting how strong a "brand" Las Vegas is. (A brand they seem to take credit for building and maintaining).
I see it as more proof that the LVCVA is borderline inept and that if they ceased to exist, it would make little impact on visitor counts. The hotels are still going to promote the city, travel sites are still going to promote the city, and just about every one of you returns home from a vacation here spreading the word. The LVCVA's attempt to take credit for every iota of Las Vegas' success is getting old. They got "punked" by a car maker who put out a better "Vegas" ad than anything they've done in a while.
Gaming Revenue Plunges – Gaming revenue (the money that you leave behind at the tables and slots) fell over 10% in 2009. Obviously, part of this is due to the economy. However, I can't ignore the strong reader input noting that your gambling money just doesn't last as long as it used to, and you are instead spending it on shows, dining, shopping, and tours. Still enjoying Vegas? Yes! Gambling as much? No.
Signs Of Recovery? – Analysts note that the Las Vegas economy will not recover until jobs in both tourism and construction return. (Duh). My prediction? Tourism jobs will slowly return over the next 2-3 years. Construction jobs will not.áThe population will stay stagnant for the next few years as construction workers leave, most likely being replaced by retirees flocking for the nice weather and dirt cheap home prices. Speaking of…
Another Wave Of Foreclosures – Is imminent. These homes will start to hit the market later this year, possibly pushing prices even lower. I've been following the market for a long time. If you are thinking of house hunting here, later this year and on into winter will probably be prime time. Hard to predict bottom, but the saturation point at which prices get so low that people simply don't sell (hanging on to the house or walking away) is primed to be later this year. And speaking of…
$7000 Las Vegas House – We usually only hear about homes this cheap in Detroit. But a home here in Las Vegas has an asking price of $7000! Now… it obviously needs some work, and it is in a neighborhood some would call questionable, but co'mon. Think about a house that many can pretty much put on their credit card! Click to view $7000 Las Vegas House For Sale
FAO Schwarz – Has let its lease run out at The Forum Shops and closed. It was a cool, store… great fun to browse and shop in. But… Forum Shop space is very expensive to lease and high-end toys probably don't have as much of a market as they did in better times.
Celine Returns – If you follow our Twitter feed, you already know that Celine is back for an extended run. This isn't "A New Day Part II". Celine will be performing hits from throughout her career, backed with a band and orchestra, and new video theming. Click for Celine Dion Las Vegas Tickets
Death Valley? – People know that the Grand Canyon as a day tour from Las Vegas, and forget that Death Valley is also a day tour. You'll see amazing desert scenery, Scotty's Castle, visit the lowest spot n the Western Hemisphere, and more. Just make sure to book in for the next 3 months or so. July – September can be brutally hot. Check out our Featured Tour section for more.
Enjoy This Issue!

Associate Editor: Amy Rayner-Cooley
News Researcher/Editor: Mark Jacobs
---
Las Vegas Is On Sale!
Get Great Rates At All Hotels:
---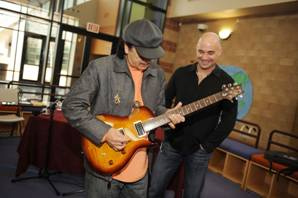 Rock and Roll Hall of Fame artist and Las Vegas headliner, Carlos Santana presents Andre Agassi with an autographed guitar for the Andre Agassi College Preparatory Academy's music department.
Carlos Santana Encourages Donations To Andre Agassi Foundation For Education During February Performances Of Supernatural Santana: A Trip Through The Hits – Launching his partnership with the Andre Agassi Foundation for Education, Rock and Roll Hall of Fame artist and Las Vegas headliner Carlos Santana today joined Andre Agassi for a tour of the Andre Agassi College Preparatory Academy, meeting with children and offering his support. Santana is encouraging public donations through video messaging during his live performances of Supernatural Santana: A Trip Through the Hits this month.
Terry Fator Celebrates First Anniversary As Las Vegas Headliner With Introduction Of New Character – Over the past year, Terry Fator has been entertaining the masses as a Strip headliner in Terry Fator & His Cast of Thousands at The Mirage. Without moving his lips, Fator has left audiences stunned by his talent and cheering for more as he takes them on a journey through the idiosyncrasies of characters, including Winston the Impersonating Turtle, Cowboy Walter T. Airedale and Duggie Scott Walker, five nights a week. Vikki "The Cougar" was the first new character introduced for Fator's headlining show.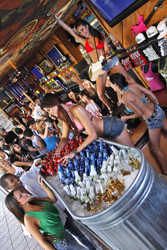 Rockhouse Rocks Spring Break With "Sprink Broke 2010" – Spring Break Student Specials March Through May At Rockhouse – In the midst of an economic recession, Rockhouse Bar and Nightclub has the solution to the Spring Break epidemic that is sweeping the nation. College students across the country have been forced to adjust, or in the worst case scenario, abandon their Spring Break party plans. Rockhouse's "Spring Broke 2010" will pickup right where it left off last year, with a memorable Spring season full wild parties and drunken all-nighters for those party-hard Spring Breakers that are still "Spring Broke."
Daughtry To Play Orleans Arena April 29 – Following the success of its nationally televised New Year's Eve performance in Times Square, Daughtry recently revealed plans for the second leg of its U.S. arena tour, which will be making a stop in Las Vegas at the Orleans Arena on Thursday, April 29. Singer Chris Daughtry, bassist Josh Paul, drummer Joey Barnes, and guitarists Brian Craddock and Josh Steely will be joined by special guests Lifehouse and opening band Cavo.
Martin Lawrence To Perform Two Shows At The Pearl At The Palms – The Pearl Concert Theater inside Palms Casino Resort is proud to present comedian Martin Lawrence for two Friday, March 19 and Saturday, March 20, 2010 at 9:00 p.m. Martin Lawrence has established himself as one of America's most popular actor/comedians with starring roles in such hit movies as Big Momma's House, Bad Boys and its sequel Bad Boys II, Blue Streak, Wild Hogs and National Security among others.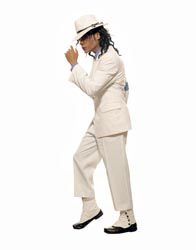 New Michael Jackson Tribute Artist Added To American Superstars At Stratosphere Hotel & Casino – The AMERICAN SUPERSTARS show at the Stratosphere Casino & Hotel is excited to announce Corey Melton as the new Michael Jackson tribute artist. "We're thrilled to have Corey join our incredible cast. He is an amazing talent with a lot of energy and his resemblance to Michael Jackson is uncanny. Together with his incredible voice and dance moves we have the perfect tribute to the King of Pop," said Donny Moore, co-producer of AMERICAN SUPERSTARS.
International Superstar Lionel Richie To Perform At The Colosseum At Caesars Palace March 26 – 27 – International music icon Lionel Richie will bring his four decades of chart topping hits to The Colosseum at Caesars Palace on Friday, March 26 and Saturday, March 27. One of the most distinctive and instantly recognizable voices in music, Richie is excited to introduce fans to songs from his new album JUST GO which is a remarkable music marriage of his timeless style and a collection of contemporary material.
---
Featured Tour û Enjoy Las Vegas!
Death Valley Day Trip from Las Vegas – Escape to the desert on day trip to Death Valley during your Las Vegas vacation. You'll travel through the magnificent Mojave Desert and visit the Spanish-style Scotty's Castle for lunch. Tour Ubehebe Crater and visit the atmospheric Furnace Creek Ranch Museum and Rhyolite Ghost Town. And as a special memento of your adventure, you will receive a Death Valley Explorer Certificate! Highlights
* All taxes, fuel surcharges and service fees included * Free hotel pickup and drop-off included * Breakfast included * Lunch included
---
Members Mania – We Love Our Readers!
My wife and I visit Las Vegas 2-3 times per year. We live in Alberta, Canada and find Las Vegas offers so much more than gambling. Reading your recent news letter I was quite upset to hear Obama's remarks about avoiding Las Vegas for a vacation or convention and to then spend your money on your kids college education? Does he think people are that stupid that they would waste their college money?
Las Vegas earns more money from my wife and I in their fabulous shopping centres and evening shows than the hotel we stay in does. Each visit we spend $2,000-$3,000 on shopping items and about $500 on shows. Maybe $200-$300 in the one armed bandits. (Can we still call them that)? He should really think sometimes before he speaks. Please pass this email along in your battle against his remarks. We love Las Vegas because there is so much to see and do other than gambling.
Regards, Brent Your Canadian Eh !!
Ted Responds:
I think you really hit on the point that others may be missing: You can gamble your brains out here if you want, but it has almost become a secondary activity. The world class food, shows, and shopping are a huge attraction. I was just over at CityCenter and saw this represented: The Aria was buzzing pretty good with people, not not a huge amount of gamblers. People were eating, people were shopping, people in lounges drinking.
Some think we (Las Vegas) deserve the Obama comments because we have been selling "What Happens Here, Stays Here", but that slogan isn't a gambling slogan (except for the joke that your money stays here). We're selling the vibe. The party. A place where you can live differently than you live at home, cut loose, have some fun, no last call, maybe splurge on buying something nice, seeing a nice show, eating at a celeb chef restaurant. In fact, I think that our newsletter is testament to all of that: We seldom cover gambling. But we'll sure let you know what the latest food, shows, bars, and shops are.
One armed bandits is still an appropriate term, although many of the newest slots no longer have handles. Which is kind of a bummer: Once in a while, it is fun to actually pull a slot handle!

---
As a manager of a New York State travel agency I agree very much that the LVCVA is totally useless and we have not used their services in many years. What they do with the money they are given is beyond me and should be investigated.
As for President Obama, you have a right to be upset because of your city but I donÆt think you are looking at the whole picture and you should know that many people feel that your mayor is less than reputable. Also, regarding Rush Limpballs [sic], you really shouldnÆt praise him being in Las Vegas. He will do whatever it takes to get attention for himself and not necessarily what is best for this country at all. Just my own thoughts-thanks for listening.
Cindy Maloni
1stchoicetravel.com
Ted Responds:
Thanks for the thoughts. Per Limbaugh, I wasn't praising him for being here. Simply exploring reasons why Obama would make the kind of comment he made, at the time he made it. To varying degrees, the media has played Limbaugh as a thorn in Obama's side. Limbaugh spends a week in Vegas and apparently enjoys himself. The next week, Obama uses Vegas as a negative connotation. I'm just looking at various angles.
I realize that our gin-swilling, shoot-his-mouth-off mayor is not everybody's cup of tea. But he's ours, and we like him. He was re-elected in a landslide for his second term, and recent polling indicate that he'd fare better than Harry Reid if he (Goodman) ran for Senate: Las Vegas Mayor Oscar Goodman Would Do Better Than Harry Reid in Nevada Senate Race
Most politicians say one thing, then do another. Goodman doesn't. Everybody knows where they stand. If someone were to decide against a Las Vegas visit based on Goodman, they are probably someone who wouldn't enjoy it much in the first place. BTW, I've had feedback from people who say they love Las Vegas, but really have trouble stomaching a place that supports Harry Reid (see following letter). So… it cuts both ways.
Per the LVCVA: Questions were brought up a few months ago about the juiced-in, three decade relationship with the advertising agency they use, and the huge amounts of money the ad agency was allowed to spend without oversight. The ad agency did decide "based on the economy" to cut their fee from 15% to 12.5%: LVCVA votes to continue R&R pact. Past that, not much came from it. The LVCVA is so powerful (and has so many people involved) that very few are willing to take them on, and really no one willing to take them on who could rock the boat hard enough to get a good look going on.

---
I have been coming to Las Vegas a couple times a year (or more in good years!) for the better part of 25 years. I appreciate all the good information you disseminate in your newsletter. I always check it out, and sometime plan a visit around information I learn for you!
I appreciate you taking the service workers to task in your comments about tipping. At least a third of the dealers are more adept at running customers off, then working to be nice and get a tip!
Finally, politics is something I have always put aside when in Las Vegas. However, with all the controversy Nevada Senator Harry Reid has caused; his backroom deals to push through health care legislation, and is seemingly deaf ear to the general policy, itÆs time the people in Las Vegas realize, he is bad for business! I find it hard to support a state that supports Senator Reid. IÆm certain many others are starting to connect the dots and take their hard earned cash to another vacation destination. As they say, a word to the wise…
Kind Regards,
Steve from Cincinnati, OH
Ted Responds:
If it makes you feel any better, Nevada does not support Harry Reid. His polling numbers here have stayed low despite a TV commercial blitz designed to raise them, and if the election were held today, any of his three main challengers running in the GOP primary would beat him unquestionably. Reference: Polls Still Not Reid's Friend (scroll down to that section)
There was some talk is that he may think about retiring similar to what Chris Dodd (D-CT) did. However… Reid is a scrappy fighter and will have plenty of support from his party all over the nation. Reid has won many elections during his tenure in politics by amazingly slim margins. Hence, no one is counting him out.
On the flip side, keep in mind that Nevada is bleeding the union jobs (with many of those people leaving the state, and even more gone by election time after unemployment has run out). And… the union rank-and-file here traditionally vote for the Democrat candidate. The unions work very hard on "turn out the vote" campaigns among members. Without those votes, Reid could be even more vulnerable.
Reid's other uphill battle will be to prove his effectiveness for Nevada. The pro-Reid argument is how great it is to have someone from Nevada in his position of power. However… it seems that both stimulus and foreclosure help money are bypassing Nevada.
In addition, needed transportation initiatives sit idle for a city which revolves around getting people here. Forget about a high-speed train to L.A. We don't even have Amtrak service of any kind out of Las Vegas. How great would even a Friday/Sunday train catering to L.A. visitors be? It is certainly worth a try. We don't even have a four-lane highway (let alone Interstate) completely connecting Phoenix with Las Vegas. How's that for a project that would both create jobs and provide an indefinite benefit to both areas!
So in the infamous words of Ricky Ricardo, Reid "has some 'splainin' to do" to the voters here this fall.

---
We love to hear from you, and value your feedback! Here's how to participate:
---
More Las Vegas News – Concerts – Events